Invest Northern Ireland Chairman to Stand Down
07 March, 2011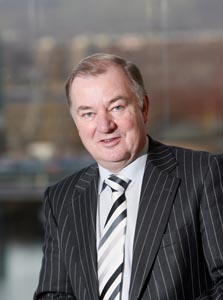 Invest Northern Ireland Chairman, Stephen Kingon, has confirmed that he is to stand down from his role earlier than scheduled.
Stephen Kingon said: "Having been Chairman of Invest Northern Ireland since January 2006, my second, and final, term was scheduled to end in December 2011.
"However, a number of factors have come together which have led to my decision to retire slightly earlier. The end of March will see the completion of the current Programme for Government and, with it, delivery of Invest NI's 2008-2011 Corporate Plan.
"Following last week's agreement of a budget for 2011-2015, a new Programme for Government will follow, which will shape Invest NI's next Corporate Plan and the targets within it.
"I feel it appropriate that my successor has the maximum opportunity to contribute to the formulation of this Corporate Plan from the earliest opportunity.
"In addition, Transform, the major programme of strategic change we are undertaking within Invest NI, is now moving to an implementation phase which will likely take two years to fully implement. Again, it is important that my successor is able to input to this from the outset.
"In tendering my resignation, I have informed Minister Foster that I am willing to work with my successor, once appointed, to enable a smooth transition and a managed handover.
"Full delivery of the current Invest NI Corporate Plan is a reflection of how far the agency has come and the positive contribution it continues to make as we seek to rebalance and rebuild our economy, despite the very challenging economic conditions. I would like to take this opportunity to place on record my thanks to the very strong, business focused Board, the highly capable and effective Executive leadership team and all of the dedicated staff in Invest NI, without whom this success would not have been possible, for their huge contribution and support.
"I would also thank Minister Foster for her high level of commitment and her contribution to the achievement of our objectives and for her strong personal support. My appreciation also goes to her Executive colleagues and the many stakeholders I have had the privilege of working with over the years."