Invest Northern Ireland helps Antrim entrepreneur propel security product to market
23 May, 2012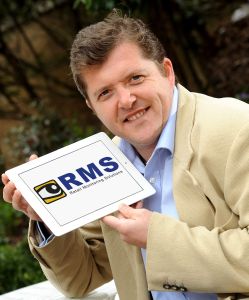 A Co. Antrim entrepreneur, Charles Henderson, has successfully launched his online monitoring system to market with help from Invest Northern Ireland's Propel programme.
Mr Henderson has over 13 years of experience in the retail trade and set up his company, Retail Monitoring Solutions, last year to develop the system. Difficulties with theft and fraud in his previous workplaces and a desire to reduce losses suffered by small retail businesses were the driving forces behind this decision.
Mr Henderson became the licensee for a service station in Antrim in 1999, but it was when he bought his second shop in 2005 that he noticed additional control measures were required to safeguard the businesses from theft.
He said: "The challenge of running two shops meant I had to look seriously at the security systems I had in place for monitoring tills, stock and shoplifting. After being a victim of long-term theft myself, I realised there were gaps in my procedures so I spoke to my supplier. He didn't have the solution I needed."
After some frustration trying to find another product in the market, Mr Henderson decided to do it himself and develop his own security and monitoring system.
"In March last year I invested in a new business, Retail Monitoring Solutions, with my business partner Nick Purce. Together we developed a prototype and tested it in one of my own shops. This process allowed us to overcome the technical difficulties, test the system in a live retail environment and test the transfer of data to off-site storage.
"The instant transfer of recorded data is one of our system's unique selling points; it allows business owners to download and check data instantly, thus reducing business loss through theft by around 1%, which in my own business equates to around £15,000 per annum," continued Mr Henderson.
Invest NI's Niall Casey outlined the benefits that support programmes bring: "Innovative business ideas with export potential, such as Retail Monitoring Solutions, demonstrate that local entrepreneurs have the insights, skills and determination to develop successful businesses. The support provided by Invest NI through programmes like Propel helps them to see the big picture and deliver the global potential of their products and services."
Mr Henderson believes that, while his business would still have been successful, the Propel programme made it happen faster. He said: "Propel has been a fantastic process for me to go through. It has given me the tools I needed to get my product to market. The support provided by the business mentors in particular has allowed me to gain access to overseas markets, something I would never have considered before."
Mr Henderson is one of 15 entrepreneurs pitching for investment in their early stage businesses at the Propel programme's final pitch event in Belfast this week.