Investment by US Company Convergys Results in 333 New Jobs for Londonderry
17 April, 2014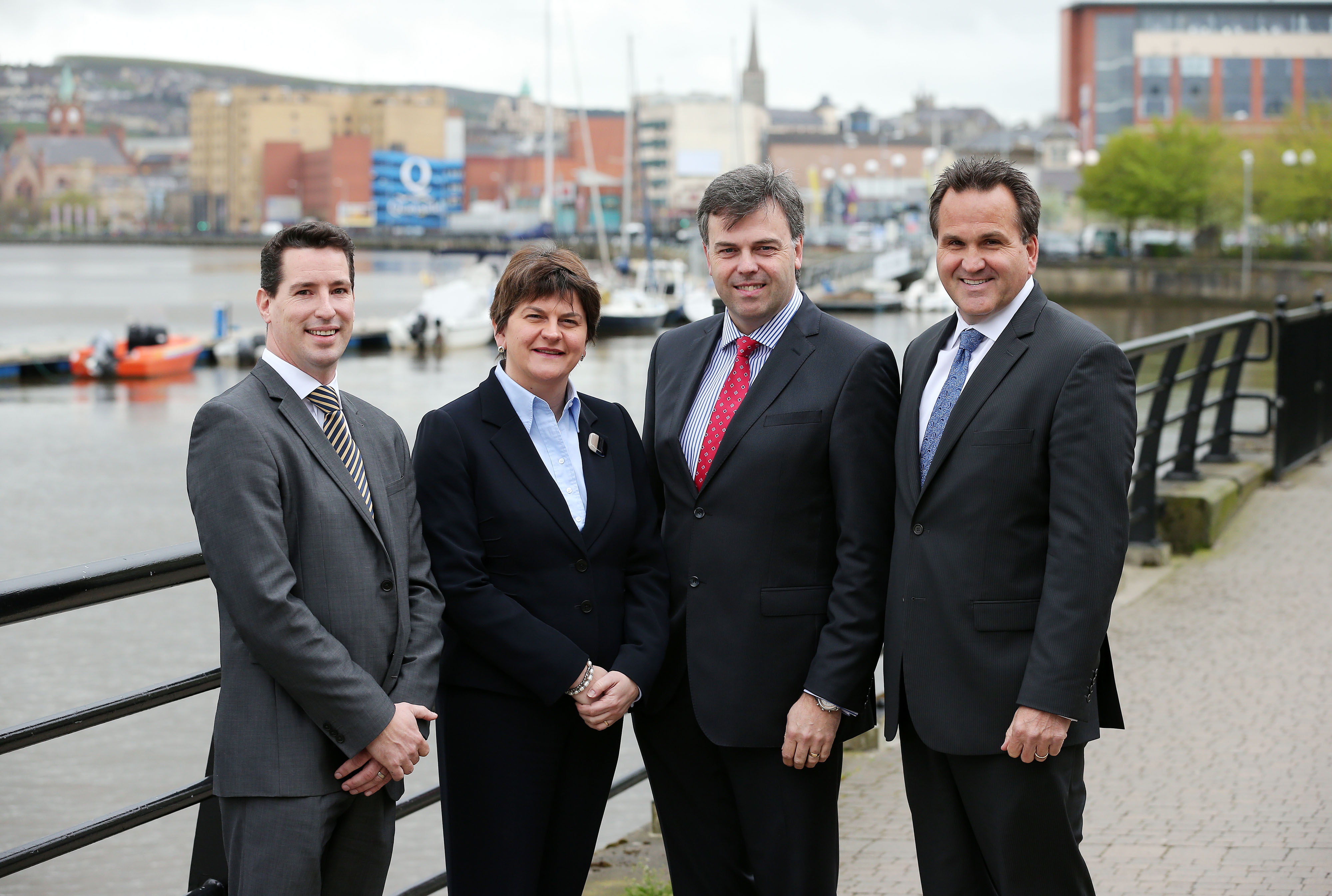 Enterprise Minister Arlene Foster today announced that 333 new jobs are being created in Londonderry as a result of an investment by Convergys Corporation.
Convergys is to set up a customer service centre in the city in collaboration with its client EE, an investment which Invest Northern Ireland is supporting with an offer of £1.5million.
Arlene Foster said: "This investment, which will generate over £5million to the local economy annually, is good news for the north-west and for the Northern Ireland economy as a whole.
"As well as attending the Northern Ireland Investment Conference last October, representatives from Convergys and EE also participated in a roundtable discussion at the event with Prime Minister David Cameron to specifically discuss the benefits of Northern Ireland as a cost-effective investment location.
"It is welcome news today that we have been able to turn those discussions into tangible results. Invest NI's offer of support was also crucial to convincing Convergys and its client to choose Northern Ireland as the base for its new customer service centre."
Convergys Corporation is a US-based company which operates 150 customer service centres across North America, Latin America, Europe, and Asia and in a work-at-home environment. The company also operates two service centers in Belfast through its recent acquisition of U.S.-based Stream Global Services.
EE is the UK's most advanced digital communications company and was first to bring 4G to the UK in 2012, when it launched 4G services, and is the only 4G provider across Northern Ireland.
The Londonderry centre will open later this spring and the new posts will be created over the next 12 months. Convergys will exclusively serve EE customers following EE's recent announcement that it is bringing customer service jobs to the United Kingdom.
Convergys Chief Commercial Officer Mike Wooden said: "By combining our extensive experience supporting many of the world's top telecommunications companies with the highly skilled and talented workforce in this region we can create a delivery centre that will generate meaningful benefits for Convergys clients, and more importantly, extensive career opportunities for the local workforce."
"Invest NI's support throughout this process was an important part of our decision to locate here. We look forward working with them again in the future."
Olaf Swantee, EE CEO, said: "I'm very proud that EE is leading the UK telecoms industry, delivering not only the first but the biggest and fastest 4G network for the country, and within 18 months, I want to be able to say that EE has done for customer service in the UK what it has done for networks. A major step towards this is returning customer service jobs to the UK, where performance has been shown to exceed that of overseas contact centres. The first stage of this is to bring over 300 jobs to Northern Ireland in partnership with Convergys."