Irish News export article - rail contacts delivered
28 February, 2012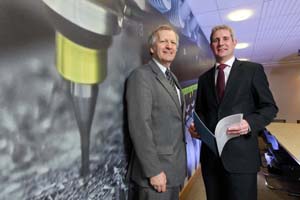 Tracy Meharg, Invest NI's Managing Director of Innovation and Capability Development, looks at how local companies are vying for work on the £15 billion Crossrail scheme.
As part of our strategic focus on assisting local construction companies to win substantially more business outside Northern Ireland we recently organised an opportunity for a group of over 50 directors and senior managers with relevant rail experience to meet Tier 1 contractors currently involved in Europe's biggest infrastructure project.
Our objective in arranging this first of a number of immensely important networking events was to enable Northern Ireland construction companies to make contacts which could result in their inclusion in supply chains for the new £15 billion Crossrail development, a huge East-West railway system for London that's due for completion in 2018 and is designed to help solve the city's traffic congestion.
The investment to create an underground rail network for the 21st century presents huge business opportunities for Northern Ireland companies across a broad range of sectors.
The Northern Ireland companies responded very positively and professionally to the opportunity provided to present their expertise and experience to industrial construction industry leaders such as Balfour Beatty, Bam Nuttall Ferrovial Kier, Carillion, Costain Skanska, EdF and Morgan Sindall at our networking event in London.
Attracting such a high profile group of buyers to our event was a tremendous achievement that demonstrated the interest these businesses have in what Northern Ireland companies have to offer as providers of sub-contractor services and products.
Helping to identify and gain access to key contacts for our companies is the responsibility of Nick Turberville, an experienced construction industry professional, who has been recruited by Invest NI to help in identifying and exploiting opportunities for the sector in Britain.
Nick brings to this important role vast experience and, perhaps above all, high-level contacts gained working on key projects at the London 2012 Olympics and Paralympics. He's already visited many companies in construction here and is planning as series of 'meet the buyer' type events to enable them to see what they need to do to secure inclusion in the supply chains of top contractors.
Several local companies, I am delighted to report, are now actively following up the contacts made at the event and importantly not solely in connection with Crossrail. All the contractors, of course, are engaged in other substantial infrastructure projects in Britain and indeed further afield.
The Crossrail project is one of a small number of key infrastructure projects taking place in GB over the next 5-10 years and it is important that Northern Ireland companies are made aware of, and given help to address the opportunities at an early stage.
While we can - and will - continue to pinpoint good prospects we look to the companies to seize the opportunities presented and to do whatever it takes to turn good contacts into meaningful business.
The scale of the challenges that the construction sector has experienced from the recession and diminishing opportunities in the Republic of Ireland, long its most important market, are well known. We have sought to assist the industry to meet the challenges by looking to other markets. This approach has including highlighting opportunities and arranging 'meet the buyer' events with Tier 1 contractors involved in the Olympics and Paralympics. Some 40 local companies have won business from the Games for a range of services and products. Furthermore, we've encouraged and assisted companies to explore business likely to develop from forthcoming events such as the Commonwealth Games in Glasgow in 2014 and the FIFA 2014 World Cup and the 2016 Olympics and Paralympic Games, both to be held in Brazil.
We've already appointed a trade adviser in Brazil and have a programme of market visits underway. A number of construction industry companies have also been encouraged and assisted by Invest NI to take part in business missions to markets such as Saudi Arabia, Kurdistan, India, Russia and eastern and central Europe that are continuing to invest extensively in infrastructure.
Several companies, including architectural practices and others providing engineering and building services, have either already secured business or are bidding for worthwhile contracts in these international markets.
Construction remains one of our largest single industrial sectors and currently contributes around £2.5 billion to and employs over 33,000 people. It's also an industry in which Northern Irish companies demonstrated the experience, expertise and knowledge required to succeed particularly in international markets. A priority for Invest NI is to encourage and assist as many more companies to grasp the business opportunities that are continuing to develop the capability and commit the resources to grow in markets outside Northern Ireland.
This article appeared in the Irish News on 28 February 2012.