Justis Publishing invests in Northern Ireland
30 April, 2013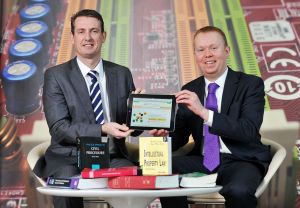 Justis Publishing Limited, a London-based legal publishing company, is establishing a base in Northern Ireland, creating eight new jobs with support from Invest Northern Ireland.
Justis Publishing is an independent publisher of electronic legal information and a provider of publishing software and services. Its customers include legal professions, government, industry and commerce and the academic community.
Invest NI has offered Justis £32,000 of support through its Jobs Fund to help recruit eight new editorial staff, specifically targeting legal graduates in Northern Ireland.
Welcoming the company's £270,000 investment, Barry McBride, Invest NI's Executive Director of International Business, said: "Justis has a reputation for innovation and good customer service in the markets it operates, and a cornerstone of its success is its strength in technology.
"We are delighted that it has chosen Northern Ireland as the location to expand its editorial team. This decision underlines the quality skills and knowledge of our law graduates in Northern Ireland and will help to further develop our legal cluster here."
Rory Campbell, Editorial Manager at Justis Publishing said: "We considered alternative locations in the UK, Republic of Ireland and India for our expansion but settled on Northern Ireland because of the availability of highly skilled law graduates here. Support from Invest NI's Jobs Fund will enable us to boost our editorial team quickly in order to accommodate our long term growth plans."
Justis Publishing Ltd has been publishing titles online and on CD-ROM since 1986 and has secured a leading position in this sector, concentrating particularly on United Kingdom and European Union legal, official and business information.
The company employs a team of editors and researchers who analyse and research legislation and case law for those involved in cases and provide the necessary information. Its multi-source legal search engine and citator service, JustCite, hosts over two million index records covering many common law jurisdictions and is a valuable research tool for many target market sectors around the world.