Karro Food Congratulated on Provisional Approval for Chinese Market
02 December, 2015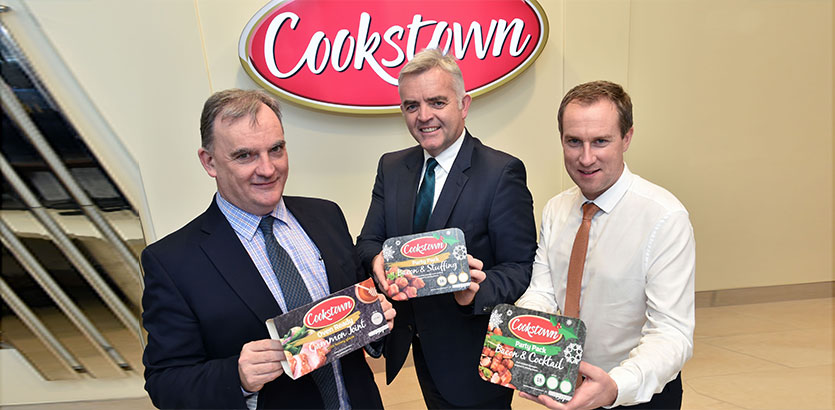 Enterprise Trade and Investment Minister Jonathan Bell has congratulated Karro Food Ltd following the announcement that the company's pork plant has been provisionally recommended for approval to export to China.
Jonathan Bell was speaking as he viewed progress on Karro's new state of the art chill facility in Cookstown.
The Minister said: "The announcement earlier this week that Karro Foods have provisionally been recommend for approval to export pork to China is hugely significant. In the next decade it is expected China will surpass Europe and become the largest consumer of pigmeat. As well as increased trading opportunities this announcement represents a massive vote of confidence in the safety and quality of Northern Ireland meat.
"Karro Food is a significant employer in Cookstown and a perfect example of the excellence in our local agri-food industry. The company continues to play a central role in developing Northern Ireland's pork sector. They recognise the integral role farmers play in business, sourcing meat locally and working with farmers to ensure high animal welfare, traceability and quality.
"The completion of its new chill facility will mark a milestone in the company's investment strategy and will enable Karro to boost efficiencies to deal with an ever increasing globally competitive industry. I have just returned from a week-long trade mission to China and plan to continue to work to represent our meat processing industry there with the aim of securing export licences for poultry, beef and lamb."
Invest Northern Ireland offered £715,000 towards Karro's new chill technology. As part of the work, the company is also expanding its office facilities, and is developing a new marketing suite, new product development kitchen and meeting facilities.
Seamus Carr, Chief Executive of Karro Group, added: "Investing in our new chilling facility is an exciting development for the business and we'll be among one of the first companies in the world to use this state of the art technology. It will help us to generate greater efficiencies in carcass chilling and production, improve meat quality and increase slaughter capacity. The extension to our premises will also enable us to grow our butchery capacity and process more added-value lines.
"Our long term investment plans are progressing well and we continue to focus on building our export sales, particularly in the U.S and Asia markets. We remain committed to working closely with the local farming industry to ensure the future sustainability of the Northern Ireland pig industry."