Local firms urged to seize business opportunities with CERN
11 September, 2013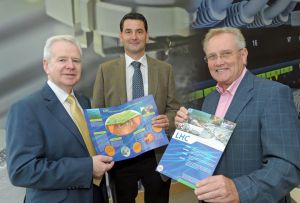 Invest Northern Ireland and the Science & Technology Facilities Council (STFC) recently hosted an event to encourage local firms to seek out business opportunities with CERN in Geneva.
CERN, the European Organisation for Nuclear Research, is the largest particle physics laboratory in the world. The facility houses the revolutionary Large Hadron Collider (LHC) and has an annual procurement budget of approximately £200 million (294m CHF). This offers substantial business opportunities for Northern Ireland firms across a range of sectors including supplies and industrial services.
Kevin McCann, Invest NI's Director of Advanced Engineering and Construction, explained: "Last year UK companies secured in the region of £22 million worth of contracts from CERN so we are keen to make sure that Northern Ireland businesses take full advantage of the supply opportunities on offer."
Representatives from 28 local companies attended the business breakfast to learn more about the types of contracts that are available.
Mr McCann said: "The main purchasing areas are in advanced technology, electrical engineering, electronics, computer systems, vacuum and low temperature technology and particle detectors. Contracts are also available in other fields such as mechanical structures and civil engineering, and all the support services that are involved in running the 600 hectare site.
"I would encourage Northern Ireland businesses to register in CERN's supplier database and seek out these opportunities."
Elite Electronics, based in Enniskillen, secured a contract with CERN in 2009 to provide electronic units for use at the core of the particle accelerator and has continued this relationship for the last five years.
Jonathan Balfour, Director at Elite Electronics said: "Winning this contract recognised of our expertise in the development and assembly of electronic systems and we have used this success as a platform to grow our business."
Stephen Myers, Director of Accelerators and Technology, CERN added: "The particle accelerator at CERN is one of the world's most advanced technology-driven programmes, which will run continuously until sufficient data has been accumulated. Companies like Elite Electronics have demonstrated they have the technological capability to win business against major international rivals in knowledge-led industries, and we are keen for more UK businesses to benefit."
STFC acts as the official industry liaison for companies. Northern Ireland businesses can register by visiting http://www.stfc.ac.uk/tenderopportunities and also directly with CERN's supplier database at http://procurement.web.cern.ch/register-for-our-suppliers-database.