Local IT specialist targets cloud services market with support from Invest NI
03 February, 2012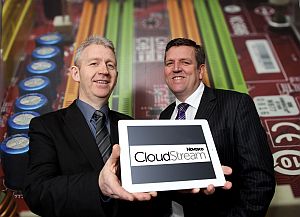 Belfast-based ICT solutions provider, Novosco Ltd has launched its latest range of cloud-based services and solutions to the UK market, with support from Invest Northern Ireland.
The company, which provides ICT and consultancy services to customers throughout the UK and Ireland, has invested over £470,000 towards the research and development and marketing of its cloud-based solutions range called CloudStream.
The new solutions range allows Novosco to target and service new customers irrespective of their location. Invest NI has offered Novosco over £167,000 of support towards the investment, part funded by the European Regional Development Fund (ERDF).
Novosco has appointed a Project Delivery Manager and Sales Account Manager to ensure that the best possible customer experience is delivered at all times and also plans to establish a dedicated delivery team in Birmingham and Manchester to support its wider growth plans.
Stephen Wightman, Invest NI's Acting Director of Life Sciences and Creative Industries, said: "This significant investment in product development is an important part of Novosco's wider growth strategy. Appointing dedicated resources and improving its marketing capabilities will enable the company to take advantage of considerable sales opportunities throughout the UK and Ireland and establish a customer base for its own product range."
Patrick McAliskey, Novosco's Managing Director, said: "While the business has been going from strength to strength over the past five years, we also recognise the need to innovate continually. The CloudStream portfolio has enabled us to do that, whilst still focussing on our core strengths as a business. Undertaking this investment with support from Invest NI will ensure that we have the appropriate skills and resources in place to achieve this objective."