Londonderry company, CASI UK announces £1million expansion
05 July, 2012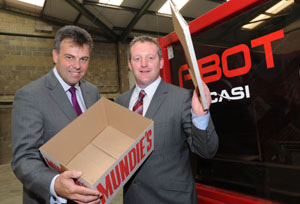 Londonderry company Cornerstone Automation Systems (CASI) UK Ltd is investing over £1 million to expand its operations from its new premises located at Bay Road Business Park.
The company, which is less than two years old, is being supported by Invest Northern Ireland to employ 12 additional staff and undertake a substantial marketing programme.
Invest NI's support was part funded by the European Regional Development Fund (ERDF).
CASI manufactures and integrates a full line of material handling systems for customers across a wide range of industries including pharmaceutical distribution, consumer goods and manufacturing. These include shipping systems, in-motion scales, sortation, box opening, order picking, receiving, as well as software and controls.
Speaking on a visit to the company's premises in Derry, Invest NI's Chief Executive Alastair Hamilton said: "This ambitious company has identified opportunities in the automation, sortation and material handling systems market and since setting up in 2010 has enjoyed fast revenue growth.
"This investment will enable CASI to employ the skilled staff it needs to move to its next stage of growth and to undertake marketing to help it achieve a greater geographical reach beyond Northern Ireland, into the rest of the UK and internationally."
CASI UK was set up by Sean McNicholl, who identified a business opportunity from his comprehensive knowledge of the sortation and materials handling market. Mr McNicholl received help from Invest NI to start the business which currently employs 15 staff.
Mr McNicholl said "Our aim is to become the leading supplier of turn-key automation solutions in the UK, Europe and Middle East. With Invest NI's support we can put in place the resources we need to respond to the substantial market demand that exists for our products and solutions."