Magherfelt company to create 40 jobs in £1 million investment
21 February, 2012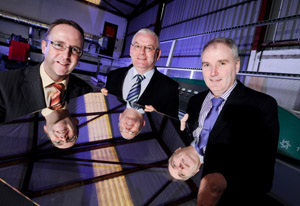 Magherafelt company Fire Glass Direct Ireland Ltd is investing over £1 million in an expansion plan that will create 40 new jobs.
Invest Northern Ireland has offered Fire Glass Direct £160,000 of support through its Jobs Fund, which has a budget of £19 million to support the creation of 4,000 jobs by March 2014.
The Jobs Fund is part of Invest NI's Boosting Business initiative and has been developed in response to the economic downturn in order to help businesses accelerate new job creation and boost employment. The Jobs Fund support has had a positive and immediate impact with Fire Glass Direct having already created 34 of the planned 40 new jobs.
Fire Glass Direct is a market leader in fire and safety glass, providing mirrors, double glazed units, office partitions and movable walls. Over the last few years the company has developed a range of new products including toughened glass and Mediglaze, which is used in critical care and isolation units for the medical/health industry.
Des Gartland, Manager of Invest NI's North-west Regional Office, says: "This investment marks the next step in the company's strategic plan to substantially increase sales and consolidate its position in the market. Its new products, which were developed with Invest NI's support, have opened up more avenues of opportunity for it and demonstrate that even in difficult economic conditions companies can succeed by constantly innovating and seeking out new markets outside Northern Ireland.
"These new skilled jobs are very welcome in Mid Ulster where the construction sector in particular has been badly hit by the economic downturn."
Fire Glass Direct was established in 2004. The new jobs created by the investment will bring the company's total staff count to 77.
Seamus O'Connor, Director of Fire Glass Direct, says: "This investment marks a major expansion for us, almost doubling our workforce, and is a reflection of our confidence in the potential of our new products to significantly increase our turnover and market reach.
"Invest NI's support is allowing us to put the jobs in place quickly and therefore take advantage of market opportunities."