Maine Mineral Water has tasty growth plans
29 May, 2013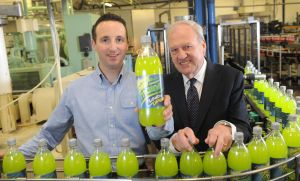 Maine Mineral Water Company in Ballymoney is being assisted by Invest Northern Ireland to grow its export business in Great Britain and the Republic of Ireland.
The company, a fourth generation family business, has launched a new range of products to grow sales outside Northern Ireland. It is also aiming to strengthen its market presence in Northern Ireland with Invest NI support.
Support for Maine's growth plans was announced by Peter McArdle, Invest NI's Acting Director of Food and Tourism, during a visit to the company, which employs over 100 people in Ballymoney. He was briefed by Jonathan Harkness of Maine Mineral Water.
Mr. McArdle, commenting on Invest NI's assistance, said: "Maine is among the best known names in Northern Ireland through its longstanding and popular delivery of minerals in glass bottles.
"While it continues to provide this popular service across Northern Ireland, the company has recognised that most soft drinks are now sold through supermarkets and other retailers and is seeking to grow its business by repackaging the range in plastic bottles.
"Our support is enabling the company to repackage its products for retailers, both here and outside Northern Ireland, and to use the expertise available through our Design Development Programme to create the type of contemporary identity that these businesses and their customers now expect.
"Many food and drink companies, both large and small, have already benefited from this expertise to help improve their sales particularly in markets outside Northern Ireland," he added.
Mr Harkness, outlining the company's plans, said: "The launch of our minerals in a new one-litre plastic bottle is an immensely important investment for the business. Invest NI is helping us to refresh our brand in line with the requirements of the retailers that we are targeting.
"We already have sales in parts of Britain and the Republic and are keen to expand business in both markets. The launch of the new plastic bottle range will make this a great deal easier than is currently possible using glass bottles."
The company, which has its roots in soft drinks in Co Antrim stretching back to 1919, began processing at Ballymoney in 1959. The family business currently supplies soft drinks to around 40,000 homes across Northern Ireland every week. In addition, it plans to make its flavours available in 500ml snack-sized bottles.