Minister Welcomes £18million Investment by Andor Technology
25 November, 2011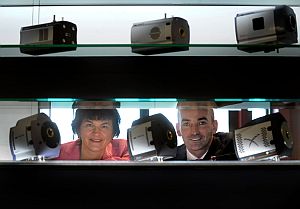 Enterprise Minister Arlene Foster today welcomed the announcement that Andor Technology plc, based in west Belfast, is to create 166 new jobs in an £18million investment.
Invest NI has offered the company £1,500,000 of support and is in discussion with the company regarding potential support for training and R&D activities.
Andor Technology make high performance digital cameras and associated products used for imaging and the measurement of light. It was established in 1989 as a spin-out from Queen's University and today employs over 230 staff in Northern Ireland, 321 globally.
The investment is part of a five year strategy to more than double the company's turnover by growing current sales channels and expanding its portfolio of products to include mid-price cameras.
Welcoming the investment Arlene Foster said: "This investment represents a major growth phase for Andor Technology and marks the acceleration of its strategic transition from a company focused on high cost products for niche and specialised markets, to a company that will capture its share of the much larger mid-price camera market.
"The company has an excellent international reputation across an impressive and diverse customer base that includes major universities, national research laboratories and corporate R&D operations. Its commitment to customer-led product development has delivered an exceptionally strong performance in recent years.
"Almost all the new jobs being created will pay above the Northern Ireland private sector median with two thirds paying 25% above this level. Overall they will contribute some £7.6million to the economy in salaries annually. This is the kind of high value employment that Invest NI is focused on supporting."
The investment also includes a major restructuring and upgrade of Andor's existing Springvale Business Park premises plus investment in additional buildings within the Park.
The company will also establish the Andor Learning and Development Academy, and this initiative is being supported by the Department for Employment and Learning (DEL) through its Assured Skills programme. DEL will provide £160,000 to help the company identify and develop appropriate training courses and materials.
Mr Conor Walsh, Managing Director of Andor Technology, said: "Our objective has always been to be the market leader in specialist scientific cameras and through continuous investment in R&D we have achieved international success in this field. Our ambitious strategy for growth over the next five years now includes acquisitions and targeting new market sectors. This investment is the next step in the process and Invest NI's support will be invaluable in helping us to ramp up production levels and quickly take advantage of market opportunities.
"We also very much appreciate DEL's support in relation to the Andor Academy as this will play a very important role in ensuring that we develop our people to meet the challenges presented by such a step change in our operations."