Popular restaurant to spice up retail sauce market
10 September, 2013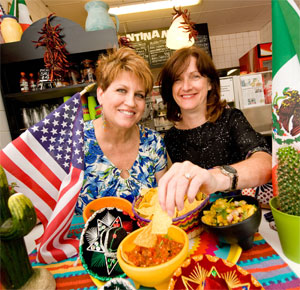 Belfast-based Baja Cantina has launched a range of innovative and authentic salsas for the Great Britain and Republic of Ireland markets, with support from Invest Northern Ireland.
Baja Cantina is a Belfast restaurant specialising in Mexican-style foods from the US south west. The new Cantina brand salsas have been created by Doris Seggie, a native of Arizona, who runs the restaurant. She began developing and selling Mexican style foods on a small stall in St George's Market in 2011. An Invest NI Innovation Voucher has helped her to create five salsas based on family recipes.
Olive Hill, Invest NI's Director of Innovation and Technology Solutions, said: "The Innovation Voucher enabled this enterprising business to access expertise advice and practical support from the Agri-Food and Biosciences Institute (AFBI) in Belfast and has resulted in an extension of the shelf-life of the new salsas which will support sales in GB and RoI.
"The vouchers are ideal particularly for smaller businesses because the funding encourages them to embed innovation as an essential focus within the business. This also enables them to develop relationships with expert staff and technicians in our further education colleges and universities. Promoting a higher level of innovation is at the core of our strategic approach to business growth," she added.
Doris Seggie said: "What sets our salsas apart, I believe, is our focus on freshness and using locally sourced ingredients where readily available. The Innovation Voucher provided essential support for me to benefit from AFBI's unique High Pressure Processing system which helps to keep food fresher, tastier, safer and nutritious for longer – key qualities required to ensure success in both retail and foodservices.
"Developing the new products with the help of Invest NI and AFBI will add significantly to my business by providing another important revenue stream. Creating a range of my own products has been part of my business strategy for some time. Invest NI's support has enabled me to bring this project forward much faster than would have been the case if I had to depend entirely on my own resources."