Propelling Northern Ireland's brightest start up businesses forward
02 September, 2011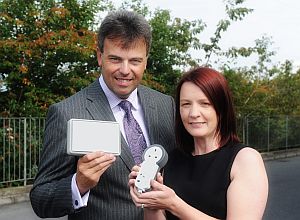 Alastair Hamilton, Chief Executive of Invest Northern Ireland congratulated 15 of Northern Ireland's brightest entrepreneurs for making it through to the second phase of Invest NI's Propel programme at the Ramada Plaza hotel at Shaw's Bridge.
Speaking at the programmes inaugural workshop Mr Hamilton said: "The Propel programme offers local entrepreneurs a unique opportunity to turn innovative ideas into high growth, export focused businesses."
"The 15 companies represent areas of growth for our economy. They include businesses in the renewables and environmental sectors, software and App developers, and niche manufacturing and recycling businesses. Each of them has demonstrated good export potential which we hope this programme will help them achieve."
"We have already demonstrated that this type of business support is good for our economy. Last year 18 companies completed this programme and already they have created 17 high value jobs, and we anticipate a further 39 new jobs will be created over the next 12 months. Five of the companies have secured equity investment totalling more than £925,000."
Janette O'Hagan from Okotech Ltd, which has developed an innovative product to revolutionise the control energy in homes and businesses was one of the successful candidates who made it through to Phase 2.
Janette O'Hagan said: "Being able to progress with this programme is a fantastic development for our business at this stage. It will allow me to focus my efforts 100% on the continued development of our product and the market potential. Our HeatBOSS product is designed to help our customers to use energy more efficiently, thus saving up to 30% of their heating costs.
"At a time of rising energy prices we can see huge potential for our business both domestically and in overseas markets. I hope that through my participation in Propel that we can bring our product to market within the next six months, something that will ensure we capture a significant share of our potential market.
"Propel has given me the opportunity to learn the business ropes from experienced and successful mentors and also meet many of Northern Ireland's brightest entrepreneurs along the way."