Qwizdom on Screen for Success in Eurotech Market
13 November, 2014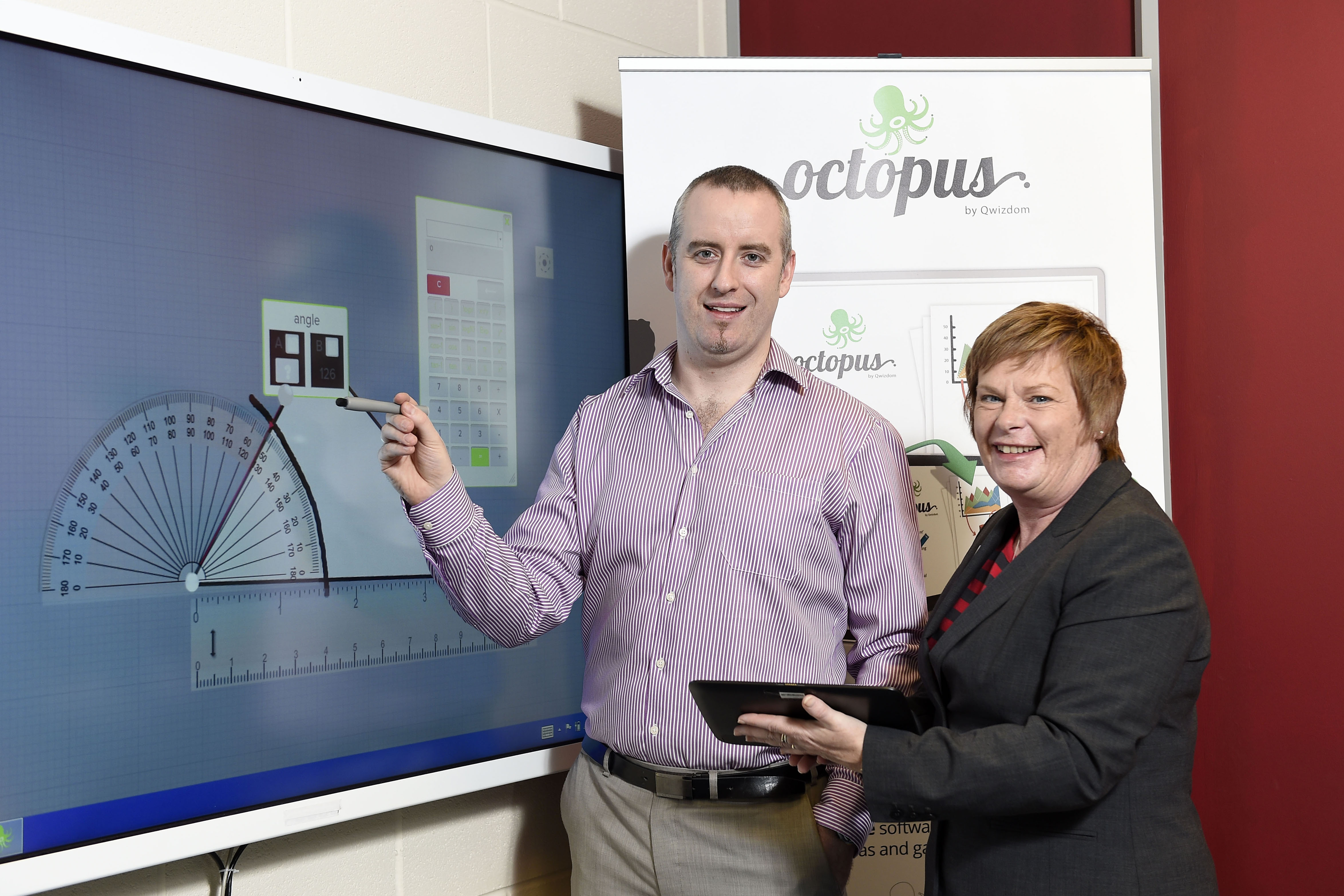 Qwizdom in Belfast, the award-winning developer of interactive learning solutions, has been assisted by Invest Northern Ireland to sign a deal with two European technology leaders that could be worth a six figure sum over the next year.
Qwizdom products support an interactive learning environment that increases participation, provides immediate data feedback; accelerates and improves comprehension and learning.
The company, based at Carrowreagh Business Park in Dundonald, has signed agreements to supply its innovative software to C-Touch in Eindhoven, which supplies interactive touch displays, and Vanerum in Belgium, a supplier of hardware and software solutions to aid communication.
The agreements follow the company's participation with Invest NI at the recent GITEX show in Dubai. GITEX was a week-long event, among the world's biggest and most influential annual technology events.
Qwizdom is supplying its specialist software for interactive and touch screen panel systems being developed for schools, colleges, universities and corporate applications throughout Europe and the Middle East.
Both C-Touch and Vanerum are bundling Qwizdom's software to increase the functions offered by their systems. Qwizdom, in addition, will be working with C-Touch to develop business for the Dutch technology firm in Ireland.
Qwizdom's latest business agreements were announced by Dermot Sweeney, Managing Director of the company, and welcomed by Dr Vicky Kell, Invest NI Trade Director. Qwizdom currently employs 10 people in its software development and marketing operations in Northern Ireland.
Dr Kell said: "The agreements secured show the value of engaging with us in an international technology showcase. Qwizdom used GITEX to strengthen its presence particularly in Europe as well as Dubai and the wider Middle East. Companies like Qwizdom know how to make the most of their presence at such exhibitions and proactively engage with potential partners to build sustainable relationships.
"As well as being an ideal platform to showcase products and services, sectoral exhibitions like GITEX are tremendous networking events that enable participants to update their knowledge of the latest technologies and market trends. They also provide opportunities for discussions that could result in new products or services or collaborative ventures that could strengthen a participating company's overall business."
Mr Sweeney said: "The agreements to supply two of the biggest manufacturers of interactive learning technology in Europe validate the quality, innovation and reliability of our software. What our software does very effectively and with flexibility is to provide the broadest range of interactive functions for their equipment.
"These interactive functions enhance person to person communications and are becoming increasingly important as touch screen flat panels replace whiteboards in Europe and further afield.
"The software encourages an engaging classroom environment, increases participation, immediate data feedback, and, most importantly, accelerates and improves comprehension and learning.
"Support from Invest NI enabled us to take part in GITEX where we met several existing business contacts and networked with potential clients. This was an immensely important exercise that led directly to agreements that will give us a strong platform for exciting growth in Europe and the Middle East," he added.
Qwizdom was established in 2004 to exploit the experience of its initial founders in the development of electronic audience response systems and subsequently expanded into the creating of software for touch screen technology offering a broad range of interactive applications.
The company's audience response systems offer the highest performance and reliability.
Qwizdom is already supplying audience response systems and touch screen software for clients in Britain, many parts of Europe as well as key Middle East markets such as Kuwait.