ROLL FORMED FABRICATIONS EXPANDS CAPABILITY IN MAGHERAFELT
23 September, 2004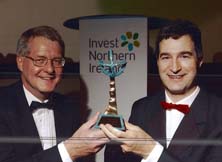 £2 MILLION EXPANSION FOR MAGHERAFELT COMPANY
"Roll Formed Fabrications Ltd of Magherafelt is investing in a radically new product that will increase its capability and overall ability to compete for business particularly in export markets," Sir Reg Empey, MLA, Minister for Enterprise, Trade and Investment, said today.
Sir Reg announced the company's £2 million expansion plan with Maureen McMullan, Managing Director of Roll Formed Fabrications, a wholly owned subsidiary of the Henry Group, during a visit to its Moneymore Road factory in Magherafelt.

Said Sir Reg: "This expansion will see the company, part of one of Northern Ireland's most successful entrepreneurial businesses, add value through volume production in its factory which makes Off-Site Constructed Amenity Pods, such as en-suite bathrooms, in a format for contractors to install directly in hotels and other large buildings.

"Roll Formed is one of the first to offer this service in the British Isles and will also benefit from experience gained from the introduction of 'fast-track' building techniques that are becoming increasingly popular with builders.

"In addition, the company intends to develop its knowledge-base by investing in marketing and new product development. Government support for the company reflects our overall commitment to encourage enterprising businesses to identify and exploit market opportunities outside Northern Ireland.

"My Department and Invest Northern Ireland are keen to encourage businesses to become more competitive particularly in new Targeting Social Need areas such as Magherafelt, a town which has suffered from the closure of traditional industries," he added.

Miss McMullan, commenting on the investment, said: "This project is in line with the group's strategic focus on diversifying into general construction work in the United Kingdom and other markets. It demonstrates clearly Roll Formed's adoption of one of the key recommendations of a recent study of the future of the construction industry.

"We are essentially using our manufacturing knowledge to offer an additional product and a new service to an industry which is facing increasing pressures from customers for faster construction of buildings and is also having to cope with a serious shortage of skilled tradesmen.

"Our en-suite bathroom pods are single pour concrete structures manufactured within a factory environment that ensures the highest quality standards. Each pod is fully kitted out with sanitary ware, shower and electrical connections and arrives on-site as a sealed unit.

"In an industry where time and weather play such an important part, our pod reduces the time lost on-site due to adverse weather conditions and further reduces the overall time on site," added Miss McMullan.