ROUTE TO ENTERPRISE HUB
23 September, 2004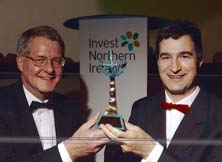 SCORECARDS SHOW NORTHERN IRELAND HAS THE POTENTIAL TO BECOME UK ENTERPRISE LEADER
A unique international study has found that Northern Ireland has the right mix of quality people, research excellence and good communications that will be enhanced by broadband technology to become a powerhouse of business enterprise, Prof. Terri Scott, Invest NI's Managing Director of Entrepreneurship and Enterprise, said today.

Prof Scott was speaking at an Invest NI conference for business advisers, representatives from the local enterprise network and Government departments in the Waterfront Hall, Belfast to launch two reports on enterprise in Northern Ireland: -

- A study by the influential Global Enterprise Monitor (GEM) organisation; and
- The Household Entrepreneurship Survey by the Department of Trade and Industry's Small Business Service (SBS) in London.

GEM was commissioned by Invest NI to assess entrepreneurship in Northern Ireland as part of a study of 37 countries worldwide. It is the largest global research project on entrepreneurial activity and the first time that Northern Ireland has been included as a separate region.

Said Prof Scott: "Together the reports provide a baseline of where Northern Ireland currently sits in terms of entrepreneurial activity and signposts the challenge facing Invest NI and the wider community as we seek to achieve the higher levels of business start-up that we have targeted as part of our strategy for faster economic growth. These issues will be addressed in a new Business Birth Rate Strategy to be published for consultation by Invest NI in January 2003.

"While Northern Ireland is placed well down the UK and European entrepreneurial league tables, the GEM report in particular shows that this community has immense potential to become a centre of enterprise.

"It's very encouraging, for example, that Northern Ireland is already ahead of the UK in a key category – the involvement of graduates aged 35-44 – in enterprise. It also recognises the increasing influence of our university-based and other research centres, a workforce with the UK's highest 'A' level profile and a vibrant family business sector in the development of a stronger enterprise culture," added Prof Scott.

The reports, Prof Scott said, pinpointed major issues that required concerted action by the public and private sectors working alongside Invest NI, which would provide the essential strategic leadership in the forthcoming Business Birth Rate Strategy.

"Many of the issues are well known and were identified in Invest NI's Corporate Plan. It is accepted that transforming Northern Ireland into a more enterprising and dynamic economy requires a broadly-based strategy that engages stakeholders throughout the community.

"Education programmes, for instance, are key to addressing cultural influences such as the historical tendency for well educated people to opt for post graduation careers in the professions. We've also got to create a stronger bridge between educational attainment and enterprise. This means encouraging many more people with 'A' level or vocational qualifications to start up in business for themselves," she added.

Prof Scott said other issues such as the low level of entrepreneurship among women and the need to encourage many start-up and owner-managed businesses to focus on exports were already being addressed by Invest NI.

"When we look at these figures and compare them with other parts of the UK, we must bear in mind that Northern Ireland is a small regional economy. Our population of just 1.7 million is under three per cent of the UK's population. The impact of long-term political instability on investment, particularly projects offering new technologies needed to renew the economy, must also be taken into account."

The second report – the Household Entrepreneurship Survey – is part of a UK-wide investigation by the SBS into levels of and attitudes to entrepreneurship. Invest NI worked closely with the SBS developing a large sample for Northern Ireland in order to assist in the development of its small business and business birth rate plans.

This survey, which was funded by Invest NI, found that Northern Ireland was positioned at the bottom of the entrepreneurs' league table alongside the North East of England. The report also provided insight into the possible factors impacting on these low levels of enterprise activity, namely a fear of failure; fear of debt and wider issues linked to a lack of confidence, specifically in females, to take the first step towards setting up in business.

Other keynote speakers at the event were Rebecca Harding, Senior Fellow London Business School and Chief Economist, The Work Foundation, who provided a briefing on the GEM survey, and Maureen O'Reilly, Northern Ireland Economic Research Centre, and Mark Hart, Kingston Business School, who both covered the findings of the Household Entrepreneurship Survey.