Schrader to Create 241 New Jobs
29 April, 2014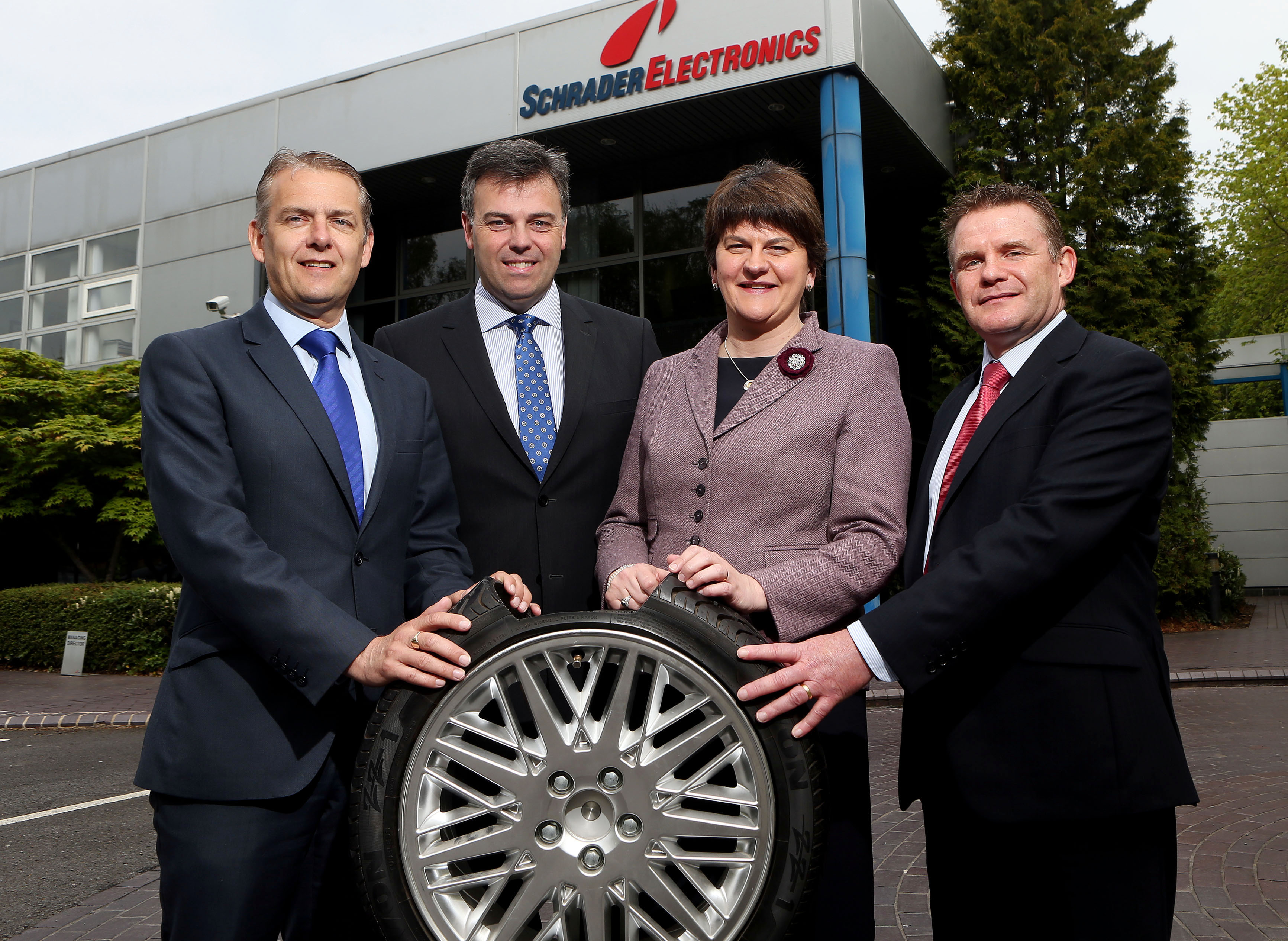 Enterprise, Trade and Investment Minister Arlene Foster today announced that Schrader Electronics Ltd is investing over £56million and creating 241 new jobs at its Carrickfergus and Antrim facilities.
Schrader Electronics, a division of Schrader International, is the global market leader in the design, development and manufacturing of remote tyre pressure monitoring systems for the automotive sector.
Announcing the investment during a visit to the company's Antrim facility, Arlene Foster said: "Founded locally, Schrader Electronics has grown into a highly renowned manufacturing company, whose products are supplied to nearly every major car maker in the world.
"This is the second significant expansion by Schrader in the last three years and it is a ringing endorsement of the company's Northern Ireland operations, which currently employ almost 1,000 people.
"The 241 new jobs will generate almost £7million a year in salaries and offer high value employment and training opportunities for local engineers."
The major investment will see the company expand its production facilities and create 241 high quality new jobs over the next three years. It is also undertaking five research and development projects, and a major staff training programme to equip its engineers with the latest design and production techniques.
Invest NI has offered £9.7million of support, part financed by the European Regional Development Fund under the European Sustainable Competitiveness Programme for Northern Ireland.
Arlene Foster continued: "Schrader's decision to also invest in five separate R&D projects reflects the company's ethos of continuous improvement and determination to carve a niche in the market.
"Innovative product development has been a key factor in the company's success and the investment announced today will help ensure Schrader continues to be in a strong position to meet the expectations of a competitive global market."
Schrader's new R&D projects include developing next generation versions of the company's highly successful tyre pressure sensors and valves.
Stephen McClelland, Schrader Electronics' Managing Director, said: "We expect to double turnover within three years due to both Tyre Pressure Monitoring becoming mandatory this year in Europe, and a number of exciting new product opportunities. Our success stems from our strong R&D base developing and commercialising new products to world class manufacturing standards. This will also allow us to consolidate our position as the world's leading manufacturer and innovator of sensing and valve solutions for the automotive sector.
"Our Northern Ireland operations are central to R&D, process and systems development and this investment will further enhance their role within the company. Invest NI's support will ensure that we can move quickly to get the new staff in place and the R&D projects underway."