Strabane Gets 60 New Jobs in Major Investment by O'Neill's
06 February, 2014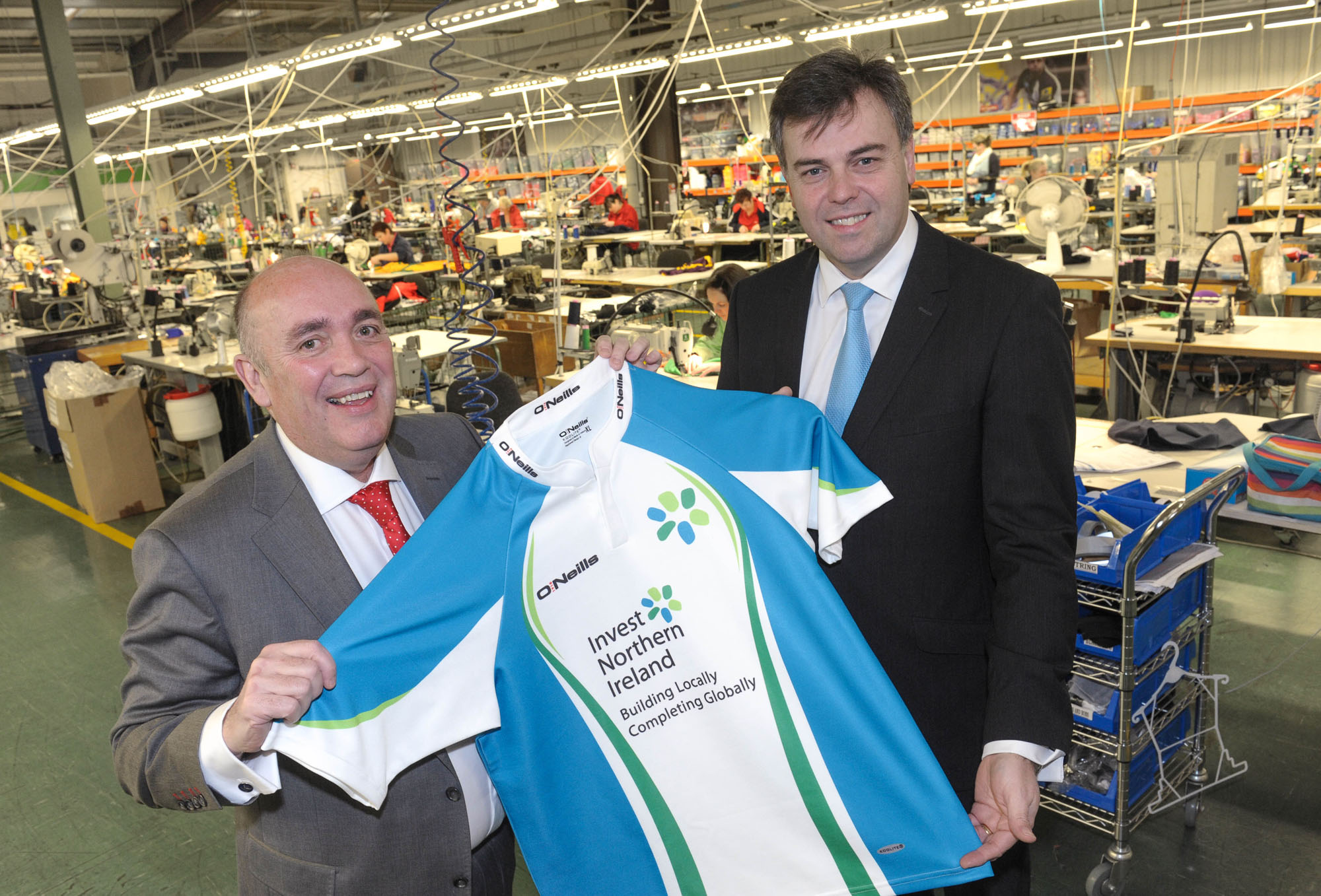 With support from Invest Northern Ireland, Strabane-based O'Neill's Irish International Sports Company Ltd is investing almost £3 million in capital equipment, ICT and facilities to expand its operations.
The investment, which is also creating 60 new jobs, was announced today by Invest NI's Chief Executive Alastair Hamilton. Invest NI has offered over £320,000 of assistance.
O'Neill's was founded in 1918 and will mark its 40th year in Strabane this year. The business designs, manufactures and sells sports and leisure wear and is known mostly for GAA sportswear. Recently, the company has diversified into multiple sports including rugby union, rugby league and cricket, and has also started to manufacture a range of accessories including hurling helmets and hurling ball cores.
Announcing the investment, Alastair Hamilton, said: "Despite the challenges faced by the textiles sector over the last decade, O'Neill's has a proven track record in delivering growth. This is in large part to its willingness to innovate, diversify and seek new markets.
"This major investment will help O'Neill's achieve its aim of increasing sales by 40 per cent over the next few years by increasing production capacity and focussing on new sports and market segments in the USA, Europe, Asia and Australia.
"The 60 new jobs are good news for the north-west and the company's ongoing commitment to staff development will contribute to enhancing the skills base in the sector."
O' Neill's occupies a 150,000 sq ft manufacturing premises on a 12 acres site in Strabane and is one of the last large-scale textile manufacturers in Northern Ireland. The new jobs will bring the total employed in the company to over 400.
Kieran Kennedy, Managing Director of O'Neill's, said: "This investment will add manufacturing capacity enabling us to achieve a significant increase on current volumes. It will allow us to work smarter and so shorten our lead times, which in turn will give us a competitive advantage against our global competitors. We're also developing our e-commerce capability to boost our online sales.
"Our success is in no small part due to the commitment, loyalty and dedication of our dedicated O'Neill's team, who have unfailingly embraced the changes required to make our business a success.
"Over the past five years the company has received a range of support from Invest NI to help us set our strategic direction, develop new products, target new markets and train staff. This ongoing support has been essential to our development and growth."