UAE Key Target Market for Northern Ireland Food Companies
23 February, 2016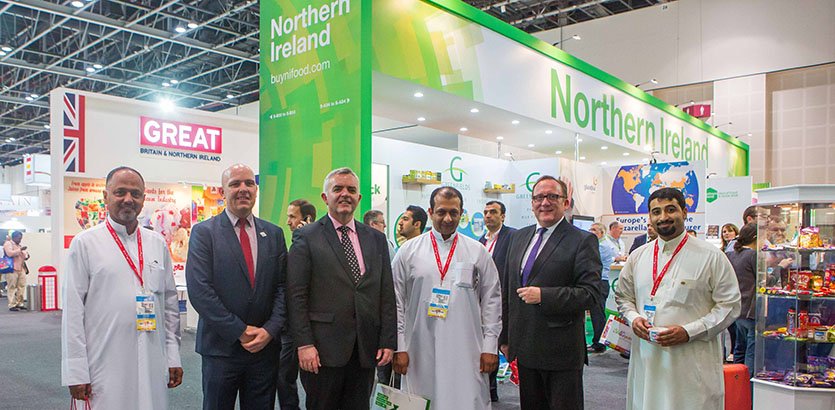 Enterprise Trade and Investment Minister, Jonathan Bell, is supporting 13 local companies taking part in Gulfood, one of the world's largest annual food and hospitality trade shows.
Speaking from Gulfood in Dubai Jonathan Bell said: "Gulfood is one of the most important food and hospitality shows in the world and historically has already delivered significant business for Northern Ireland companies including Free'ist, Dale Farm and Glenarm Organic Salmon.
"As an Executive, we recognise the importance of supporting our local businesses to explore export markets helping them to develop international business opportunities in key markets. Northern Ireland already boasts some of the world's finest produce and, as we look to grow our international reputation during Northern Ireland's Year of Food & Drink, this exhibition is giving us a platform to raise our profile and to promote our local food offering on a global stage.
"The UAE region is a key target market for ambitious Northern Ireland food and beverage companies with a 17% increase in exports here in the latest 12 month rolling period, from October 2014 to September 2015, compared to the same period last year. Invest Northern Ireland is helping the producers here at Gulfood to take advantage of potential opportunities, connecting them with buyers and distributors and helping them to drive exports.
"The United Arab Emirates is an important trading partner for local businesses and Northern Ireland's relationship with this market continues to grow. I am confident that this year's Gulfood will be a success and further business will result from contacts made during the exhibition."
The Minister's visit will take him to Dubai in the UAE and Kuwait where he will conduct a series of business meetings with existing businesses and potential investors.