UK food experts meet local artisan producers
17 May, 2013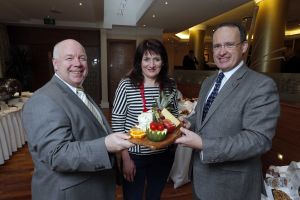 Invest Northern Ireland has hosted the first-ever delegation from the influential UK Guild of Food Writers to Northern Ireland.
Sue Quinn, UK Guild of Food Writers, is welcomed to Belfast by, left, Ian Murphy, Invest NI Director of Growth and Scaling, and Howard Hastings, Chairman of the Northern Ireland Tourist Board and Managing Director of Hastings Hotels. Invest NI hosted the four-day visit by 10 leading food writers from the UK Guild to meet artisan producers.
The four day visit gave around 30 artisan food and drink companies the opportunity to show their products to a group of leading UK food writers, stylists and industry consultants.
In addition to meeting artisan producers at events in Belfast, Castledawson and Moira, the 10-strong group, which included several authors of top selling cookery books, food and lifestyle magazine journalists and consultants to leading retailers in Great Britain and the Republic of Ireland, met leading local chefs Niall McKenna of James Street South, Shu's Brian McCann and Gerry Rosato, Executive Head Chef of Hastings Hotels in Belfast.
The members also met Howard Hastings in his role as Chairman of the Northern Ireland Tourist Board at a special breakfast in the Europa Hotel for the hotel group's suppliers.
Also included in the delegation was restaurateur Marianne Lumb, a Masterchef-the Professionals finalist, who is opening her first gourmet restaurant, 'Marianne', at Notting Hill in London in mid July and is discussing opportunities for local companies to supply the new venture.
As a result of the visit, products from several local companies, including Hannan Meats, Moira and Abernethy Butter, Dromara, are likely to feature on the menu of the new restaurant. The high profile visit also led to an introduction for Invest NI to a key buyer in a major food retailer.
Ian Murphy, Invest NI's Director of Growth and Scaling, commenting on the visit, said: "We were delighted to host the writers as part of our drive to increase awareness of the outstanding food and drink now being produced by artisan businesses across Northern Ireland.
"Artisan producers find it difficult to raise their profile outside Northern Ireland. This is where we can help through our export support and in-market services. This visit gave us the opportunity to bring influential food writers and menu development experts to meet a group of local artisans here in Northern Ireland."