UPU GROWS THROUGH COMMITMENT TO INNOVATION
23 September, 2004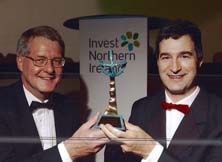 "UPU Industries of Dromore, Co Down has achieved success in the prestigious International Business Awards through a continuous investment in product innovation, manufacturing technology and international marketing activities," said Ian Pearson MP, Northern Ireland Office Minister with responsibility for the economy.
The Minister congratulated UPU Industries on gaining a commendation in the Best New Exporter category in the competition which is sponsored by Trade Partners UK, the main UK trade promotion body, during a visit to the company.

The company employs 47 people in the manufacture of polypropylene baler twine and a unique high-density polyethylene net wrapping for crop harvesting.

The Minister said: "UPU Industries is an excellent example for other small to medium sized companies in Northern Ireland seeking a route to profitable growth in today's tough business conditions.

"In a relatively short space of time – just six years – UPU has achieved national recognition and international success as an innovator in providing an effective solution to enable customers to harvest and store difficult crops such
as hay, straw and silage cost-efficiently and faster - important benefits for farmers facing intense pressure on margins.

"The company, furthermore, is seeking to sustain its competitive position by adding further value to the business. It is investing in knowledge – new technology, in links with Queen's University, Belfast and in its people – to increase productivity and provide further benefits for customers.

"This is a progressive company with a clear strategic approach that is sharply focused on further growth through exports, a commitment now recognised in the International Business Awards."

Mr Pearson was met by Philip Orr, Managing Director, and Mark Weir, Financial Director of UPU Industries. The Minister also met other members of the management team and workers during a tour of the plant in Quillyburn Business Park.

Mr Orr said: "We are delighted that our commitment to business in world markets has been endorsed by Trade Partners UK. Our success is the result of a dedication to market research, efficient manufacture and to meeting customer requirements.

"We know the requirements of our markets and we continue to develop our processing technology to deliver consistently high quality products. We've also been assisted by Invest NI in developing our facilities, exports and people. A planned approach to export markets has enabled us to overcome seasonally fluctuating home demand and fulfil plant capacity," he added.

The company, which has invested over £4 million to create Europe's most technologically advanced plastics manufacturing factory in Dromore exports over half of its annual output of netwrap products and baler twine to customers in 26 countries.