US Companies Form Strategic Alliance in Northern Ireland
23 September, 2004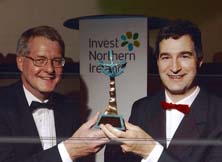 Lurgan-based electronics manufacturing company, SMTEK Europe, has entered into a £1.5 million agreement, with potential sales of over £4 million in subsequent years, to produce sophisticated test diagnostic instruments for Doble Engineering Company of Boston, Massachusetts. The agreement was assisted by Invest NI's Northern Ireland International Partnership Programme (NIIPP).
The contract was announced today by Tracy Meharg, Managing Director of Innovation and Capability Development at Invest NI, and Kieran Leonard, SMTEK Europe's Managing Director.

SMTEK will manufacture test units for power system simulators for distribution by Doble Engineering in the United Kingdom and other parts of Europe and the world. Doble Engineering supplies diagnostic and other equipment and engineering services to the electricity industry worldwide.

Tracy Meharg said: "This is an excellent example of how our trade development activity, NIIPP in particular, and other business improvement programmes can help companies to add significant value to their operations and compete successfully in international markets by developing a strategic approach to exporting.

"NIIPP helps local companies to access new markets by providing assistance on the ground through an experienced business consultant to identify and form a partnership with firms offering similar or complementary skills and products.

"As well as the NIIPP service, SMTEK has used other Invest NI trade initiatives successfully, including the International Trade Development Programme and trade missions, to keep abreast of market trends and to identify worthwhile business opportunities. This progressive company has also sought to strengthen its competitiveness by taking part in Invest NI Business Excellence and E-Business initiatives," she added.

Commenting on the contract, Mr Leonard said: "The agreement with Doble Engineering is an important stage in our strategy to grow our business in target markets through partnerships with manufacturers requiring electronics expertise and expert services.

"This alliance is based on our experience in contract electronics manufacturing and our reputation as a customer-focused provider of quality services. Over the years, we've developed a flexible manufacturing operation that enables us to undertake short production runs as well as volume manufacture. SMTEK also recognises the importance of supply chain management and over the years we have built up a network of strategic suppliers that has allowed us to provide a range of local supply chain solutions whilst also providing a global sourcing capability.

"We registered with NIIPP last June and by October we had received several leads, including Doble Engineering. Follow-up contacts led to a visit to our plant by a senior manager from this company. Doble Engineering had been seeking a resource to outsource a portion of its production volume and to help expand its business in Europe. A trade mission to North America in March provided a cost-effective means for us to visit Doble in Boston and to carry out market research. On-going negotiations resulted in a deal with Doble being signed earlier in June.

"We are delighted to be working in partnership with Doble Engineering and are looking forward to helping them to develop their sales in Europe and further afield. Invest NI has been of enormous benefit to us. It's highly unlikely that we would have found Doble without this help" added
Mr Leonard.

NIIPP is assisted by the International Fund for Ireland and is designed to help local companies form a partnership or strategic alliance overseas that will enable them to develop profitable business in world markets.

The match between SMTEK Europe and Doble Engineering was brokered by Peter Ahern and Janet Marcinik of Axios International, Cleveland, NIIPP's US consultant.