Westwood Marine Leisure Congratulated On New Luxury Cruiser
01 September, 2014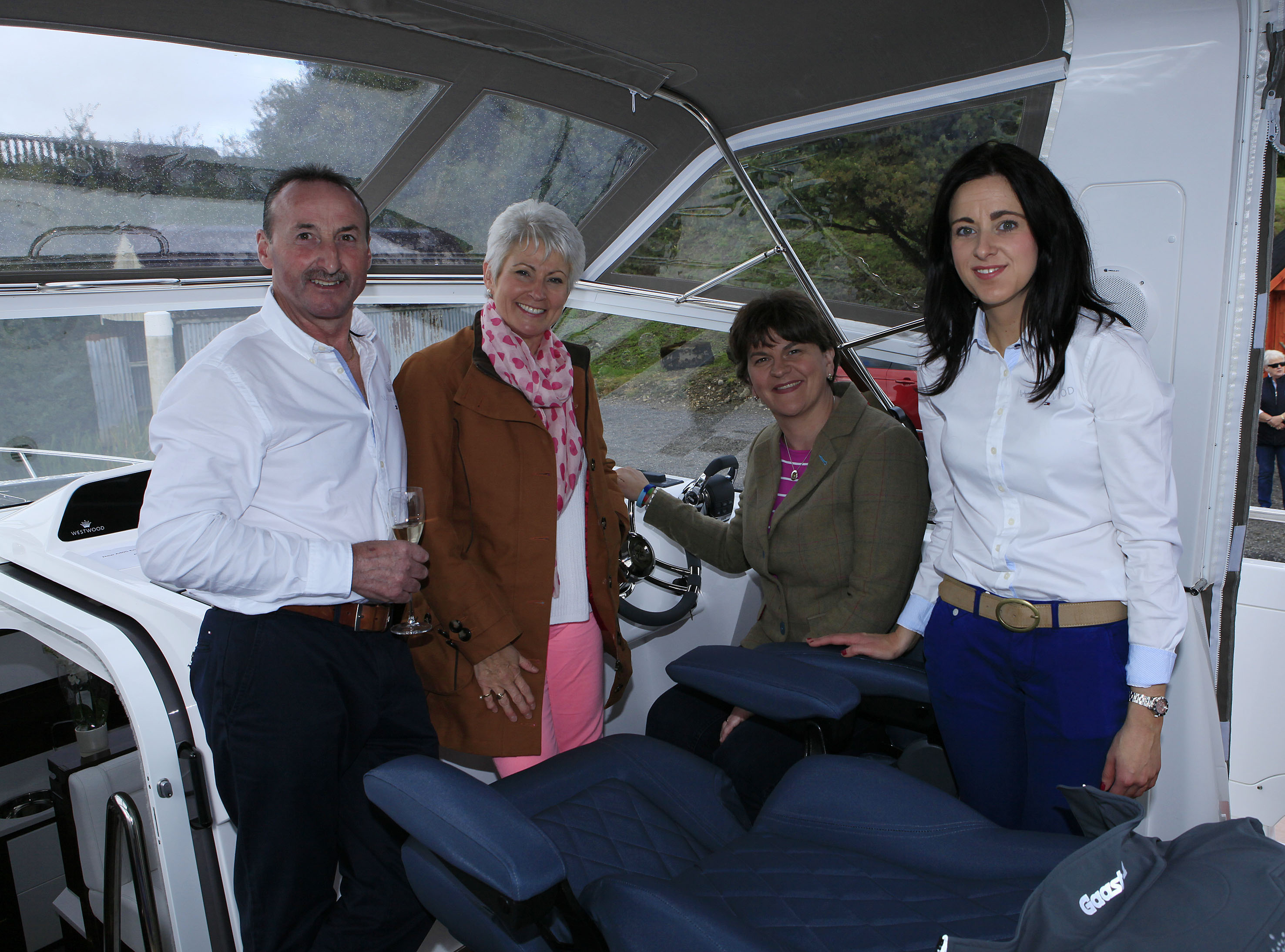 Enterprise, Trade and Investment Minister Arlene Foster congratulated Westwood Marine Leisure Ltd on the release of its new A405 luxury cruiser, which is to make its world debut at the Southampton Boat Show in September.
The Minister joined around 100 guests to attend a preview event at Crawfords Marina, Carrybridge on Lough Erne, where she was shown around the 40-ft cruiser as part of their "Best of British" festival and heard about the company's plans for the future.
Westwood Marine Leisure Ltd was set up in 2013 after the Leonard family, who have over 50 years' experience in the marine industry, acquired the Westwood brand which was an established British luxury cruiser label.
Welcoming the launch of the A405, Arlene Foster said: "This is an exciting day for Westwood as the company unveils its new cruiser, which is already generating a great deal of interest in the UK, Republic of Ireland and further afield. The A405 is the first product to be brought to market by the company, which has plans to develop further models and establish itself as a leader in the UK Marine Industry.
"Fermanagh is famous for its fantastic waterways and is a natural home for top-class boat builders like Westwood. It is encouraging to see the Leonard Family investing in advanced manufacturing, which is so important to our economic growth. Westwood Marine Leisure is a good example of the kind of innovative small company that will help regenerate the economy.
"The Leonard family have been heavily involved in promoting and improving the marine infrastructure on Lough Erne and it is fantastic to see this new venture open. In addition to this the family have opened a new marina at Bellanaleck and hope to encourage new Westwood owners to use the Fermanagh Lakelands from this base."
Since it was established, Westwood Marine Leisure has received a range of support from Invest Northern Ireland to assist with its research, development and marketing activities, part funded by the European Regional Development Fund.
Tom Leonard said: "Having worked in the marine industry for many years and being involved previously in the Westwood brand it was a natural progression to take on the new venture and bring it back to Northern Ireland.
"We have spent a lot of time refining the new boat to ensure it is one of the best in its class. The new model has been well received to date; we've secured a number of agents in Great Britain and have a number of people coming to view it at the Southampton Boat Show."
The Westwood A405 will be the only boat from Northern Ireland of its size to be on show at Southampton, where over 120,000 attend.
"We're delighted to welcome the Minister to Carrybridge today to view the cruiser and to have the opportunity to thank her for ongoing support of local businesses," added Tom.