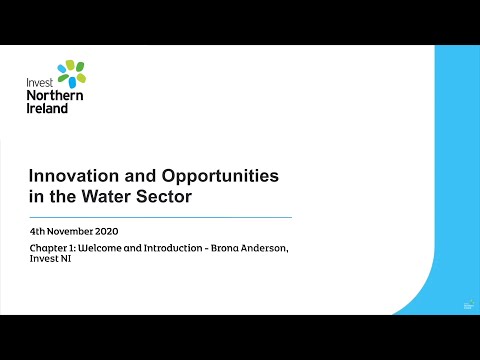 Chapter 1 – Welcome and Introduction
5 minutes
Video Overview
Brona Anderson, Client Manager for Energy and Environment Sector welcomes delegates to the "Innovation and Opportunities in the Water Sector" webinar, highlights the importance of the sector for business growth and introduces the speakers for the day.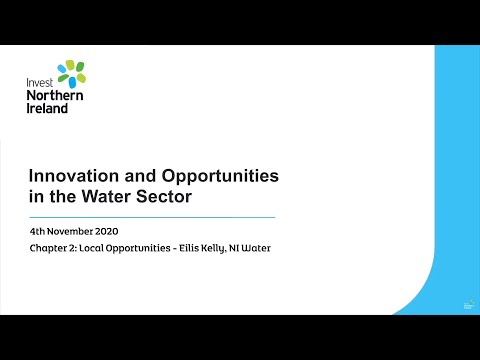 Chapter 2 - Local Opportunities
11 minutes
Video Overview
Eilis Kelly, Commercial Programme Manager at NI Water outlines how businesses can engage with NI Water to access tender opportunities and frameworks to help them gain new business.
Chapter 3 - Opportunities in Great Britain
21 minutes
Video Overview
Lila Thompson, Chief Executive British Water demonstrates how British Water can help businesses access supply chains for AMP7 through their UK Liaison meetings with GB Utility Companies.
Chapter 4 - The need for Research and Development
10 minutes
Video Overview
Ruth McNeil is Project Manager at Scottish Water Horizons for the Interreg EU Water Test Network Project which facilitates businesses to test, demonstrate and develop new products for the water sector and accelerate the time to market.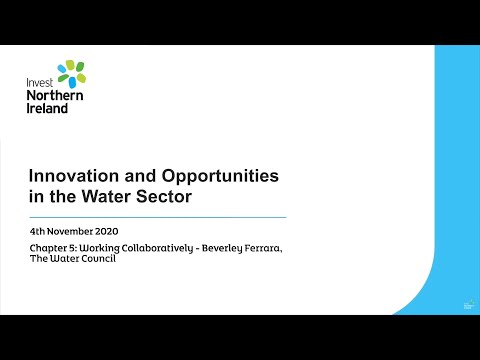 Chapter 5 - Working Collaboratively
10 minutes
Video Overview
Beverley Ferrara is the European Representative for The Water Council and highlights the benefits for businesses to work on a collaborative basis to access new innovative technologies and to access international markets.
Chapter 6 - NI Case Studies
15 minutes
Video Overview
Six case studies of Northern Ireland companies who have developed products and services for the water sector for external markets.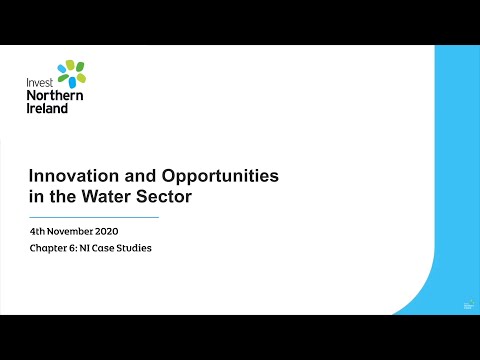 Chapter 7 - Q&A
18 minutes
Video Overview
This chapter answers the frequently asked questions from the audience on the day.
Next Steps - Sam Knox, Invest NI
Sam Knox, Business Development Executive for the Energy and Water Sectors gives an overview of the support available to Northern Ireland businesses. For further details contact sam.knox@investni.com
Innovation and Opportunities in the Water Sector Webinar
The water and waste water sector offers real growth opportunities locally, nationally and internationally through market drivers such as Climate Change, Decarbonisation, Energy Storage, Microgrids and Circular Economy. This webinar will help you understand how the water markets are changing, the need to incorporate digital technologies and how you can access high-value markets through innovation and collaboration.
90 minutes
7 videos