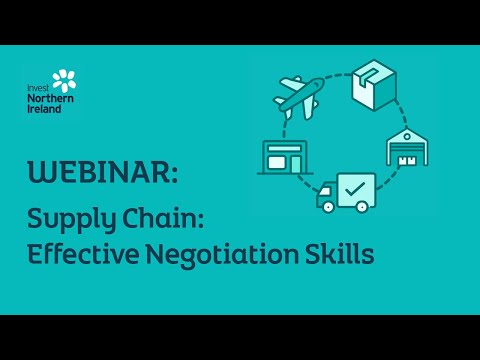 Supply Chain | Effective Negotiation Skills
50 minutes
Video Overview
In this tutorial, Jo McVeigh and Stephen Drummond, Senior Supply Chain Advisors from Invest Northern Ireland, will take you through the steps to achieving more effective supplier negotiation skills through:

• Researching the market dynamics.
• Researching suppliers' capabilities and economics.
• Analysing information collected and developing key insights.
• Developing a negotiation strategy – mandate, leverage, scenario planning.
• Negotiation in practice – preparation, discussions, proposals and bargaining.
• Negotiation human factors.
Supply Chain | Effective Negotiation Skills
Effective supplier negotiation skills are critical to successful supply chain management. For negotiations to work, they require purchasing professionals to develop their engagement skills, and be well practiced in detailed preparation ahead of any supplier interaction.
Our Effective Negotiation Skills tutorial will highlight how you can take action to make your engagement more effective and how you can develop your purchasing team, so it delivers value and reduces costs.
Chapter List
53 minutes
1 video