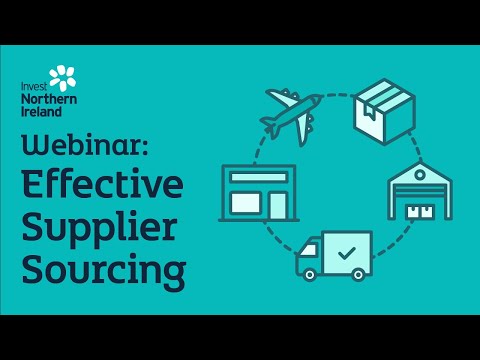 Supply Chain | Effective Supplier Sourcing for Cost Avoidance
33 minutes
Video Overview
In this Effective Supplier Sourcing tutorial, Clive Stewart, Supply Chain Solutions Manager and Brian Durnin, Senior Supply Chain Advisor from Invest Northern Ireland, will take you through:
- Identifying your requirements
- How to define and document the scope of your requirement
- Searching for new suppliers
- Creating an RFQ document
- Auditing potential new partners
- How to protect yourself - contracts & SLA's
- Plan for the long term - Supplier Relationship Management
Supply Chain | Effective Supplier Sourcing for Cost Avoidance
Recent disruptions in the global supply chain have caused many uncertainties around the guarantee of supply and planning for predictable costs.  
As a result, many businesses are turning to sourcing to expand their options, and often to bring the supplier base closer to home. As with most new business processes, sourcing can be difficult and time consuming to execute well, but can cause additional disruption if executed poorly.
This supply chain video tutorial will provide an overview of what is considered best practice for sourcing, as well as how it can be implemented within your own organisation.
33 minutes
1 video