Accepting your Letter of Offer
Get information, advice and guidance on accepting your Offer
Invest NI grant support is issued to customers in a contract known as a Letter of Offer.
In line with Invest NIs digital transformation strategy, Letters of Offer are issued and accepted digitally as standard, using a digital signatures platform.
The digital signatures platform used by Invest NI is Signable
Benefits of digital signatures include:
Improve the efficiency of the Letter of Offer acceptance process
Improve customer flexibility by enabling Letter of Offer acceptance regardless of location
Reduce postage and document storage costs
Reduce paper usage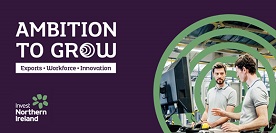 Ambition to Grow
Receive up to £45,000 in funding and Invest NI support.