Develop your leadership abilities
Do you want to grow your company through becoming a more effective Leader or by creating a more strategic and cohesive Leadership Team?
Leader Programme
The Invest NI Leader Programme (PDF) is specifically designed to enable SME leaders to grow their business. It offers participating companies an opportunity to assess their performance. It combines one to one and peer learning in addition to the latest leadership thinking from experts and guest speakers.
You will benefit from the advice of an experienced business mentor to assist you in the development of a growth action plan. You will gain an insight into the personal leadership style of your business through engaging with an executive coach. There will be an opportunity to engage in significant learning opportunities with other SME business leaders in group networking.
Find out how you can apply for the Invest NI Leader Programme here. Applications close on Monday 01 June 2020.
Case study | Find out how GCD Technologies benefited from the Leader Programme
---
Leadership Team Programme
The Invest NI Leadership Team Programme (PDF) focuses on developing the skills, strategic focus and relationships of the top team in order to achieve business growth. It combines world class executive education modules, with specialist business coaching for executive teams and shared learning through peer networks. You will have the opportunity to share ideas and experiences with other leadership teams. In addition you will gain a deeper understanding of how to develop and implement strategies that drive sustainability and international growth.
Case study | Take a look at why the Leadership Team Programme was a phenomenal investment for Neueda
---
Leading within a Group Programme
The Invest NI Leading within a Group Programme (PDF) is open to CEO's and site leads of companies located in Northern Ireland with a parent company based elsewhere. The programme recognises the specific complexities and issues faced by leaders operating within a wider Group/global structure.
You will be inspired to think and act differently and will be equipped with the tools to help you develop a growth plan. Through a tailored executive education programme you will have access to global best practice in leadership and will work with executive coaches to build your leadership competencies and drive the growth of your business.
Case study | Find out how TPICAP Belfast benefitted from the Leading within a Group Programme | Rosie Gormley
---
Accelerating Growth Programme
The  Accelerating Growth Programme (PDF) is designed to help you identify where your business is, where you want to be and what you need to do to take your business forward.
The programme uses a combination of webinars and business mentoring to provide both challenge and support for participants seeking to manage their SME business in a rapidly changing business environment.
The programme takes place over 4 months and includes:
Business mentoring to provide advice, guidance, challenge and support

A business diagnostic to help you identify strengths and areas for improvement

Webinars to help you

adapt, innovate and refocus your business faster.

An action plan

to take your business forward
Case study | Hear how Learnspark developed their roadmap and adapted their business model | Paul Gray
---
Non-Executive Director Scheme
The  Invest NI Non-Executive Director (NED) scheme (PDF) provides Invest NI customers with financial support to engage an experienced NED, who will work with you to accelerate growth and to overcome specific barriers.
The NED will provide independent advice, guidance, challenge and knowledge transfer at board level, which will help your business to compete successfully and maintain competitive advantage over the longer term.
The scheme includes grant support up to £15,000 or 49% of eligible costs (whichever is the lesser) over two years to engage with an experienced NED.
To be eligible for the scheme you should:
Be a limited company registered in Northern Ireland

Have turnover of at least £500k, with 25% export sales
Accessing expertise through a Non-Executive Director can be an effective way to accelerate business growth, ensure competitiveness and lead to higher productivity and growth.
Case Study | Hear how Aurion Learning has benefitted from taking part in Invest NI's NED scheme | Maureen Murphy
---
Leadership Events
Invest NI provides ongoing opportunities for business leaders to remain connected while continuously developing both their businesses and their leadership skills. A range of events for the alumni of our leadership programmes are organised annually.
Invest NI also hosts best practice events that bring together international and local business speakers to talk about their experience and provide access to a range of assessment tools.
Read our feature: Ben Bryant wows local business leaders at Leadership Masterclass
---
The Mentoring Scheme
The aim of this scheme is to improve the capability and growth of ambitious Invest NI companies through the engagement of a business mentor. The scheme includes a grant up to a maximum of £4,000 or 49% of eligible costs for the engagement of an experienced mentor over a 12 month period.
---
Not sure that this support is right for you? Contact us and we can explore options for your business together.
Our support may be subject to some eligibility criteria.
---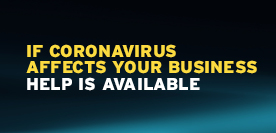 Coronavirus business support
Find out more on nibusinessinfo.co.uk/coronavirus
nibusinessinfo.co.uk guides