Get into R&D
More successful products, more customers, more profits. Interested?
You'd be mad not to be. It's all possible through the magic of research and development. You can watch some companies here who have already done so.
That's not something you need a white coat and a lab for; it's just the process of developing new or better products and services.
And to sweeten the experience we can provide up to £50,000 of support towards your costs.
We can help you:
Investigate or plan your idea
Develop, build and test a prototype
Experiment and refine your design
Handle intellectual property
We also run workshops on issues related to research and development and can signpost you to other sources of advice and assistance.
Case study | Hear how Spatialest benefitted from Invest NI R&D grants
---
Not sure that this support is right for you? Contact us and we can explore options for your business together.
Our support may be subject to some eligibility criteria.
---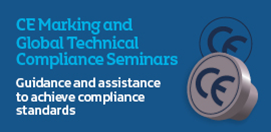 CE Marking Seminars
Stay up-to-date on compliance, European and Global standards
nibusinessinfo.co.uk guides