Values and Behaviours
Our values reflect who we are today, and who we want to be going forward.
They are the cornerstone of our culture – how we want to be treated and how we treat others.
We all have a role to play in creating our culture, in bringing it to life, and our recently revised values are based on this principle.
It starts with me
I am part of a group of individuals. Individuals who lead by example to create a culture that is inclusive and innovative. From the way I work, to how I treat others, I have a responsibility to collaborate around our shared values and inspire everyone to go the extra mile.
iCount
I actively ensure that diversity and inclusion is at the heart of everything I say and do.
iPartner
I do everything I can to ensure customers and colleagues are successful.
iShow
I am a leader and I role model our values and behaviours in everything I say and do.
iShape
I play an important role in making Invest NI a more engaging place to work.
iCare
I look after my own and my colleagues' health and wellbeing through my actions.
iOwn
I think about and take responsibility for my own personal development.
iRespect
I do the right thing.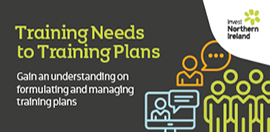 Training Needs to Training Plan
Get advice on formulating and managing training plans