Grow Beyond Programme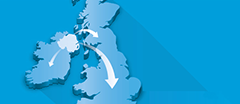 Grow Beyond helps Invest Northern Ireland customers in manufacturing and tradeable services to understand the process of approaching a market outside Northern Ireland (Republic of Ireland and/or Great Britain) and covers three key areas:
targeting and researching relevant market segments
planning and taking the first steps to developing a presence in the market
finding channel partners through whom to grow business and managing them effectively
The programme comprises:
Three practical skills workshops
Three days of 1:1 mentoring support to help apply the training to your own business circumstances and develop a Trade Action Plan
Presentation of your Trade Action Plan to your fellow participants and Invest Northern Ireland
Grow Beyond is designed for Invest NI customers:
with at least two years trading experience
employing at least three people including the owner/manager
with a turnover of more than £250k and currently selling less than 30% of turnover outside Northern Ireland
with a strong interest and willing to invest the necessary time and budget in developing business in the RoI and/or GB markets in the next 12 months
Workshop 1 - Targeting & Researching Your Export Market - 24 September  

How to effectively conduct export market research and use it for selecting and targeting suitable market segments in RoI or GB

Workshop 2 - Developing Your Export Markets - 15 October  

What you need to consider to enter the market and service it in the longer term; route to market options; resource planning; pricing strategies and logistical considerations

Workshop 3 - Identifying & Managing Distribution Channels & Partners - 05 November  

Reseller/partner options; how to identify potential resellers; screening tools & and techniques; planning and evaluating partner performance and legal documents to formalise these relationships

Workshop 4 - Trade Action Plan Presentation - 26 November  

Presentation of Trade Action Plans and feedback discussion
1:1 mentoring will take place between workshops to assist application of the learning with one final mentoring session after the presentation to support plan implementation.
Companies selected to participate will pay an up-front participation fee of £225 +VAT toward the costs of course delivery. Two delegates per company can participate in the workshops.
Companies should register their interest in Grow Beyond with their Invest NI Client Executive or the International Trade Regions Team at niamh.chambers@investni.com.
For further information on the Grow Beyond programme Contact us and we can explore options for your business.