6 tips for using paid online advertising
The topic for our latest ICT Workshop was Paid Online Advertising and Search Engine Marketing.
Delivered by Mark Haslam of Loud Mouth Media the workshop covered a range of different aspects and tactics for reaching your customers through paid online advertising with the key point being to focus on the relevancy of your message – target your customers with what they want and not what you want.
Google to penalise non-mobile sites from 21 April
At the beginning of the workshop Mark highlighted that Google are to penalise non-mobile sites from 21 April. In an effort to improve user browsing experience Google will be extending their use of mobile-friendliness as a ranking factor. From 21 April if you have a site that isn't mobile responsive, your position on search will drop. The aim is to serve relevant search results to users for the devices that they are using. This will impact your position on paid search.
In what was a very comprehensive workshop covering all aspects of search, display and social advertising I have summarised six key points to consider.
1. Google Mobile-Friendly Test
Google has developed a helpful tool that allows you to test how mobile friendly your site is. It is a free tool and only requires you to input your web address and it will analyse your site and serve you a rating for your site and suggestions on how to improve it.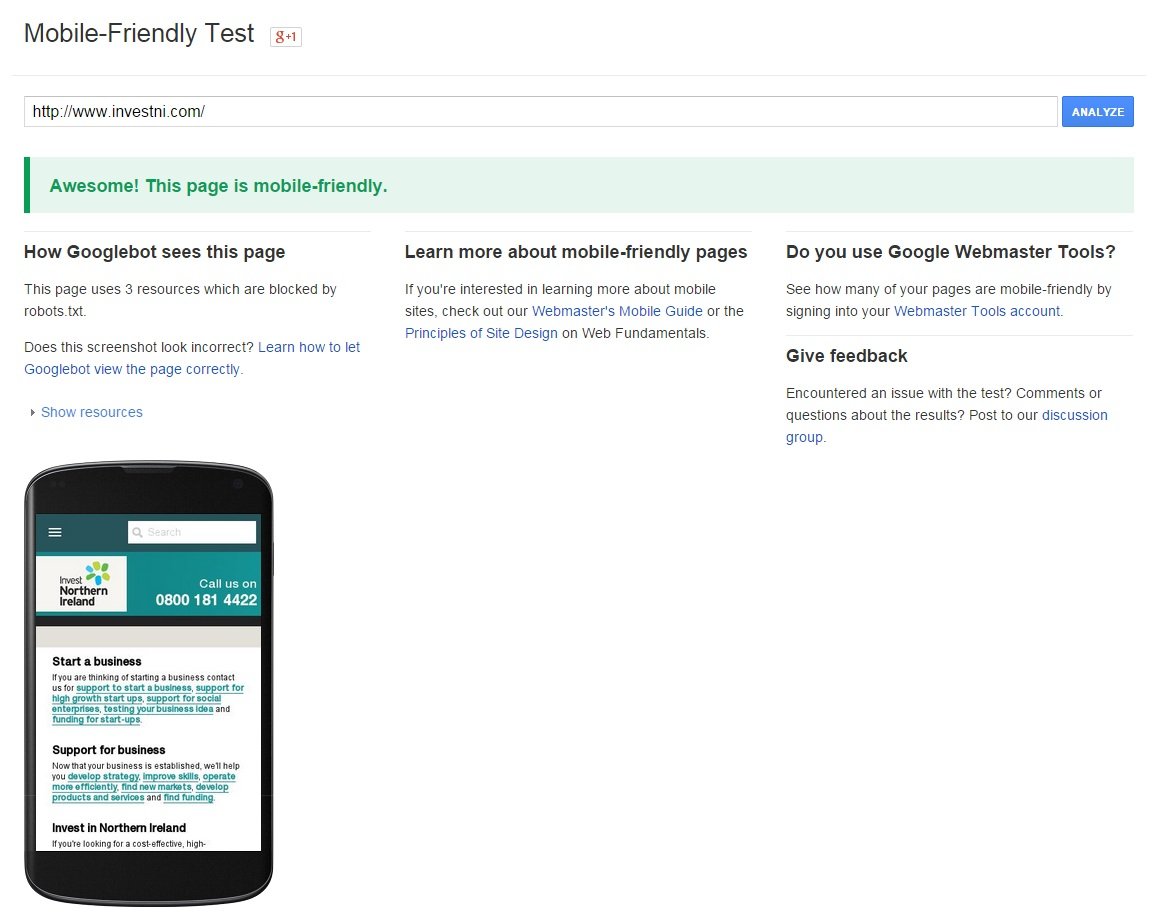 2. Search advertising – be specific
Mark provided an excellent, yet very simple explanation of the need to be specific with your search advertising. If you're working in a shop and a customer asks you where a specific product is, you will take them to exactly where it is in the store. The same applies for search advertising - if you're promoting a specific product the link should bring the user to the specific landing page for the product.
3. Use Google's search terms report
If you are using paid search you should be using the search terms report to see how your ads are performing against specific terms. By running the search terms report you are able to identify high performing keywords and adjust your bids accordingly. Equally you can identify irrelevant search terms and these should be added as negative keywords to prevent your ad being served to the wrong person.
4. Google Display Advertising
In keeping with the theme of relevancy Mark highlighted some of the tools that can be used through Google Display Advertising to target people who have specifically expressed an interest in your product or those who are consuming content relating to your products or services.
Topic targeting – This allows you to target users who are visiting websites relating to a specific topic. For example ladies fashion, cars or music. Topic targeting allows you to extend the reach of your audience based on targeted specific topics that relate to the product/service you are selling.
Remarketing – This allows you to target people who have previously visited your site. You can follow the user around the web as they continue to browse other sites and serve them your message. If used in the correct way it can be highly effective. There is various different ways to remarket with fashion retailers utilising it to target customers who have previously bought a product with further products in future months.
Affinity Audiences – This practice allows advertisers to target consumers with your products and services based on their previous browsing history looking at their interests, passions and most frequently visited content across the web.
5. Google Shopping
Google Shopping is an excellent ad platform for retail businesses, it drives high quality leads to your site, is much more targeted and cost effective. Whilst it is highly effective, it is time consuming to set-up. However, to help with the ongoing management of your campaign you should come up with a process for grouping your ads so that you can adjust the ad-group as a whole as opposed to individual products.
Sample ad-groups could include:
Best Sellers
High ROI
Seasonality
Promotions
6. Facebook as an advertising platform
The afternoon session began with a focus on Facebook and Mark used the Grey Poupon social media campaign as a way of demonstrating that Facebook isn't about gaining lots of likes to your page but more about attracting relevant fans and people who will actively engage with your messaging.
Mark went on to explain how you can use Facebook's user friendly Ad Manager to create your own ads and to define a specific audience for your ad. In doing so you can target your messaging to people based on location, gender, interests, behaviours and relationship status among others.
Watch our video testimonials from people who attended the Paid Online Workshop.
Download the full Paid Online Marketing Workshop presentation.
@InvestNI @Tullyglass really enjoying the #paidonline workshop, first class!! @MoreSportscom

— Chris Graham (@grahamcs) March 25, 2015
Further reading
How online market places can boost your international sales
Why you should be selling on eBay and Amazon
How to make your online marketing work for your business