Alastair Hamilton details how a strong first year marks good progress towards four year business strategy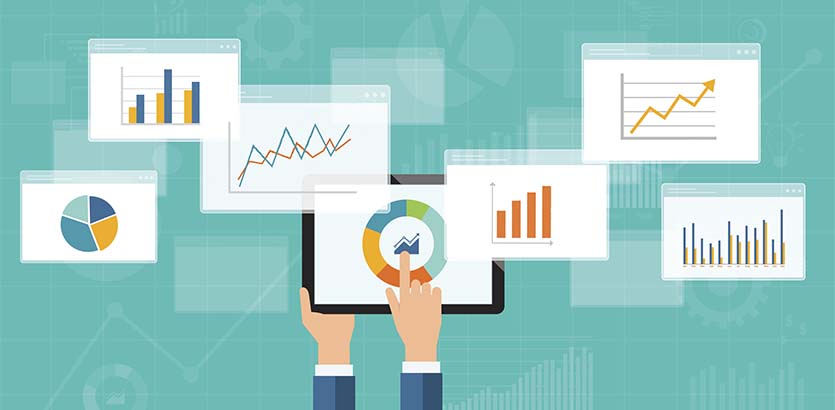 This year has seen a change in reporting for the organisation. We have moved to Outcome Based Accountability(OBA) which measures the wider impact of our activity
Invest NI provides support and advice to businesses regardless of their size, location or stage of development. However, in order to measure impacts effectively we are collecting results from a cohort of over 1,500 businesses that we work most closely with.
We gather key performance indicators (KPIs) from these companies to track progress towards our Business Strategy outcomes covering additional jobs created, total sales, external sales and exports. We also use NISRA Business Expenditure in R&D figures to track expenditure on Research and Development (R&D).
Year 1 Progress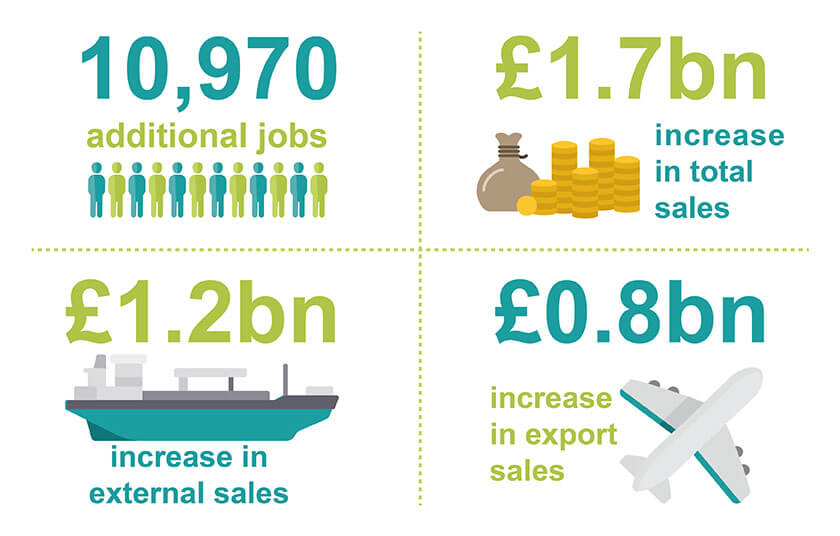 As well as being one third of the way towards our four year jobs outcome target, the figures also show we are half way towards the export sales outcome target and have already reached the lower end of the export sales outcome.
Progress to 4 year targets
The Advanced Engineering & Manufacturing sector has the largest proportion of the increases in jobs, sales and exports. This may come as a surprise to many considering the challenges some areas of manufacturing, such as automotive, have faced in recent years. However, companies in materials handling have seen strong growth and represent 33 per cent of additional jobs.
Our key market for external sales continues to be Great Britain which represented 35 per cent of external sales increase. For exports the largest proportion of the increase in sales was to the Republic of Ireland.
Regional spread
This outturn of nearly 11,000 additional jobs within the first year, against a four year target of 30,000-40,000 is an exceptional outturn.These are jobs that businesses have already created, right across Northern Ireland. 69 per cent of these jobs have been created by indigenous businesses.
Additional jobs created
As the council area with the highest concentration of businesses, it is unsurprising that Belfast City Council area had the largest proportion of additional jobs. Mid Ulster District Council, Armagh City, Banbridge and Craigavon Borough Council and Newry, Mourne and Down District Council all had substantial proportions from between 10 and 14 per cent.
More information on regional figures will be available in due course.
Attracting new investors
In 2017/18 we continued to see strong interest from companies looking to invest in Northern Ireland.
New to Northern Ireland investors
These jobs will be created over the next 3-5 years.
Other deliverables
Other progress on the 2017-2021 Business Strategy objectives includes:
Breakdown of performance by Council Area
To access information for a council click on the specific region of the map you are interested in.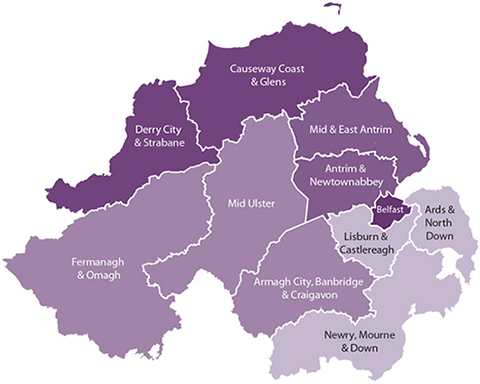 Alternatively click on one of the links below:
You can view the information for a council area by clicking on the region you are interested in below.