C&D Waste Recycling Industry in South and West China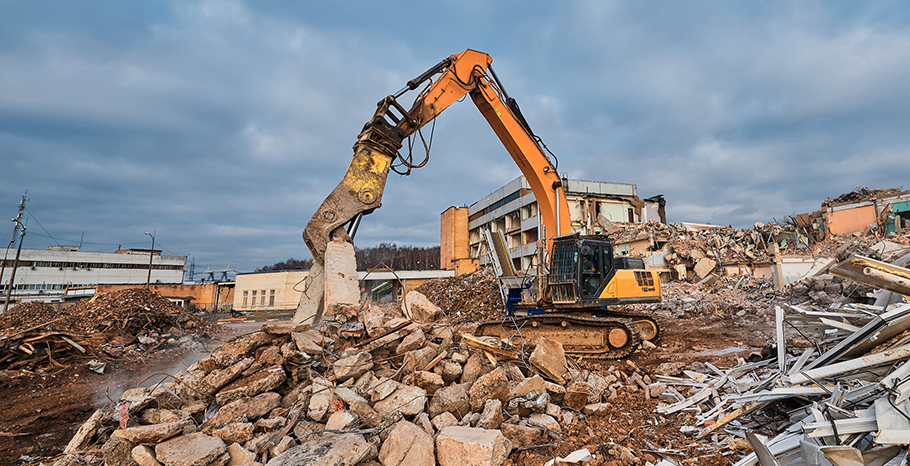 This feature is the second in a series based on research conducted by Invest NI into China's Construction and Demolition (C&D) Waste Recycling sector.
It examines the developing status of five provinces in South and West China, offering cutting-edge insight into regional developments.
Unique markets with the capacity for growth
Identifying the potential for growth in the south and west of China, Invest NI conducted in-depth research on five key provinces in the region: Guangdong, Guangxi, Chongqing, Gansu, and Henan. While each province has a large demand for C&D waste recycling, these five provinces have their regional characteristics with differing stages of development. China's solid waste law (Sept. 2020), has had and continues to have, a nationwide effect on the planning, reduction, and legal enforcement of C&D waste.
| Province | Recycling rate 2020 | In 2020 | In 2019 | In 2018 | Key City |
| --- | --- | --- | --- | --- | --- |
| Guangdong | ≥60% | 4548.58 | 4177.42 | 3649.69 | Guangzhou, Shenzhen, Foshan |
| Guangxi | ≤30% | 4996 | 4421.24 | 3558.92 | Nanning, Liuzhou |
| Chongqing | ≥40% | 4121.56 | 3959.24 | 3803.30 | |
| Gansu | ≤10% | 539.71 | 529.15 | 494.62 | Lanzhou, Tianshui |
| Henan | ≥85% | 3264.87 | 3180.66 | 3157.59 | Zhengzhou, Xuchang, Luoyang |
Demolition waste output and the recycling rate in five provinces (million tonnes)*
Key developments in the five provinces
Guangdong
According to research, there is plenty of infrastructural construction projects in development in Guangdong, a province in which there was also a high aggregate price and a relatively developed recycling market. With the government's incentives and directives to manage C&D waste in place for only three years, the C&D waste recycling rate was 60% in 2020, indicating an active and mature market.  *
During the 14th Five-Year Plan period (2021-2025) in Guangdong, a 4.6 trillion RMB investment in major transportation infrastructure projects will further boost the provinces' C&D waste amount, together with preferential policies on C&D waste recycling in terms of taxation and finance.
Guangxi
In Guangxi, (excluding Nanning and Liuzhou), C&D waste output remains low and regulated, resulting in a recycling rate of less than 30% in 2020.* However, the government is actively introducing social capital at a provincial level to speed up the establishment of a market mechanism for the utilisation of C&D waste, indicating the government's urgent need for funding or related technologies to further develop the C&D waste recycling level.
Chongqing
As a mountainous city neighbouring Sichuan and Guizhou, Chongqing is rich in natural aggregate resources. Selected as a pilot city for C&D waste recycling in 2017, Chongqing's local governments have vigorously promoted C&D waste recycling, resulting in a recycling rate of over 40% in 2020*. It plans to have a recycling rate of 95% by 2035.  However, Chongqing's mountainous topography has produced difficulties in providing large-scale land for stationary products to meet the upcoming construction of urban roads, plazas, riverways, parks, and other infrastructure. As a result, the demand for mobile recycling equipment in Chongqing is expected to surge.
Gansu
As a vast and sparsely populated province, C&D waste recycling in the province of Gansu is largely promoted to fulfil basic legal requirements. The C&D waste management industry in this region is in its infancy, with a regional recycling rate of less than 10% in 2020, indicating a small market with the opportunity to support industry growth and development.* Typically, C&D waste dumps in Gansu are small-scale and scattered across the region, but there are many temporary recycling enterprises in the city, with high demand for mobile equipment.
Henan
Henan began C&D waste recycling in 2013, and as a province with a large population, has a large range of construction projects, and a rapidly developing waste management industry. After nearly 10 years of development, industry policies and the market have greatly matured, enabling a recycling rate in the region that exceeded 85% in 2020, showing maturity among other provinces.* Up to 2022, the Henan government has launched construction projects of a rail transportation network and key industrial construction zone with a total mileage of 1,272 km. Crushing and screening will be required on construction projects along the railway line starting in 2020, and the demand for mobile recycling equipment that can be relocated as the project progresses will be huge.
Each province has its characteristic regarding plan, policy and regulation, drive, and development level, and the C&D waste recycling level will keep increasing under China's goal for low-carbon emission and environmental regulations.
* Data jointly collated by the China Association of Urban Environmental Sanitation Construction Waste Management and Recycling Working Committee and Zoom Environ Technology Co.ltd
Discover more – sign up for our C&D Waste Recycling Webinar
Join us for an upcoming webinar exploring China's C&D Waste Recycling industry in South and West China on Tuesday 16 November. The webinar will provide market insights, trends, key cities and policy for each province, as well as highlight market opportunities, competitors, and potential approaches to success in each province. Sign up now for our upcoming C&D Waste Recycling webinar.