Funding Growth | Explore Your Options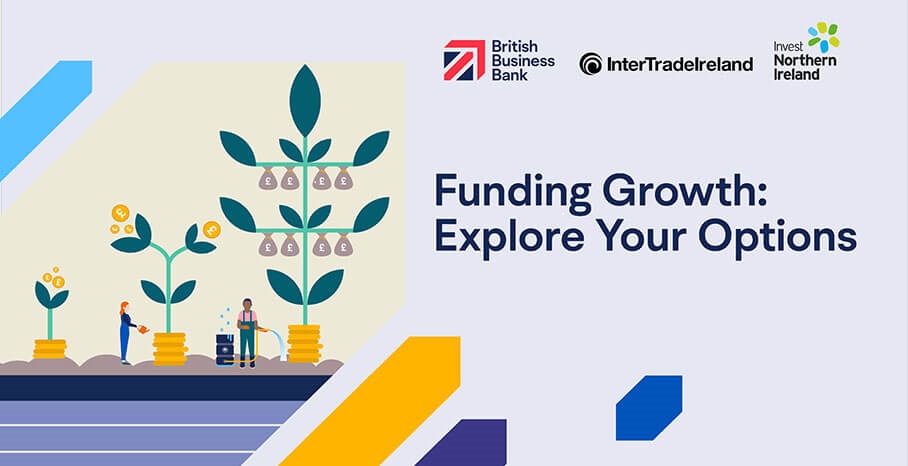 Small to medium enterprises (SMEs) are the backbone of our economy providing up to three quarters of all private sector jobs and turnover.
Regardless of size or stage of development, to scale to the next level SMEs need funding to achieve growth.
Accessing Finance
For small businesses, having access to the right kind of finance is immensely important – it could be the difference in being able to purchase vital equipment, hire employees, explore exporting, or invest in innovation and new product development.

However, a reduced risk appetite by banks and a historically weak venture capital industry have meant growth finance is often in short supply. Invest Northern Ireland's Access to Finance funds were created to help companies struggling to access the required finance to grow their business. Established in 2011, Access to Finance is now a principal element of the funding environment and a necessary aspect of the continuum of funding SMEs and growing the local economy.

Totalling £170m, there are five funds ranging between £10k to £2m, offering support to SMEs across both debt and equity markets.
Operated on a fully commercial basis, the Funds are managed by independent Northern Ireland based Financial Conduct Authority (FCA) approved fund managers.
Access to Finance Conference
To further assist businesses in accessing funding, Invest NI, in partnership with InterTradeIreland and British Business Bank host an annual Access to Finance Conference covering a different theme each year.
 
The conference will help attendees understand the positive role of external finance when it comes to successfully growing a business.
With a strapline of 'Funding Growth: Explore Your Options,' this year's conference aims to demystify external finance for smaller businesses, raising awareness of 'alternative' finance options and how they complement traditional bank finance to accelerate growth.

Following its virtual delivery in 2021 due to the COVID-19 pandemic (watch Day One and Day Two of the 2021 conference), this year's conference will be held at The Junction, Dungannon on Thursday 23 June.

Hosted by Susan Hayes Culleton, this free, in-person event will specifically address the nuances of family-owned businesses in the context of external finance, with sub-themes of innovation and the transition to net zero running throughout.
Though any type of business can attend, this year's conference is aimed towards local businesses in more traditional sectors and who are operating in rural locations, as well as business and finance advisors who collaborate with them.
Attendees will:
Hear from investors, past delegates, and expert panels

Gain awareness and understanding of the different options available

Learn from businesses about their first-hand experience of raising debt and equity finance

Learn how to take action to use external finance to make your business grow
For more information on the Access to Finance Conference 2022 and to book your place, click here.

Not sure what financial support is right for you? Contact us and we can explore options for your business together.