Is innovation essential for business success?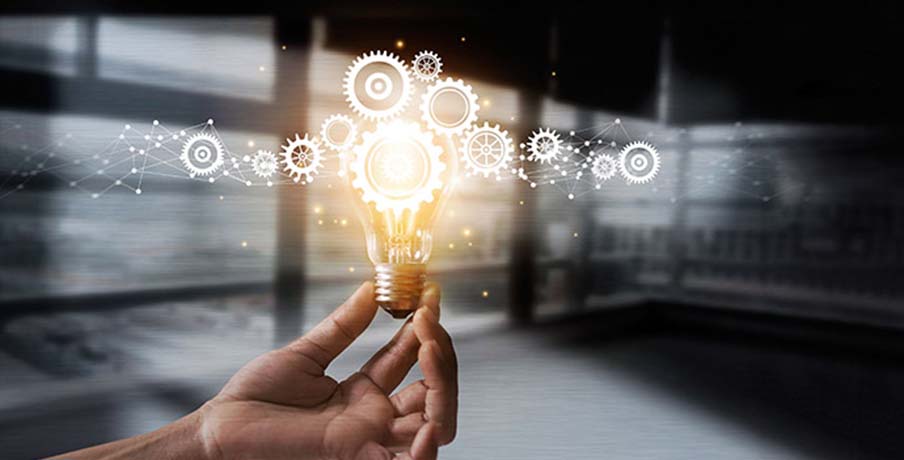 Jeremy Fitch, Executive Director for Business Growth in Invest Northern Ireland believes it is.
In May 2021, the Department for the Economy published its 10X Economic Vision which clearly identified innovation as the driver of delivering a ten times better economy which would benefit everyone.
Jeremy, who has been a long-time champion of the power of innovation, research and development, says he was heartened to see this ambition front and centre of the Department's vision, adding to his determination to integrate innovation into all aspects of business in Northern Ireland.
Over the past 20 years, since its creation, Invest NI has helped thousands of businesses develop innovative products and services. Reflecting on his time with Invest NI, Jeremy says "Many, many local companies have received support through our Innovation, Research & Development initiatives to research, design, develop, prototype, test and commercialise their ideas, with many going on to successfully compete on a global stage; we have a lot to be proud of.
However, Jeremy continues "Innovation is much wider than many think. It is more than technology and science, and it is not just about creating new products and services. I believe that businesses are now beyond these boundaries and that they think about process innovation AND innovation processes!"
It is for this reason that Invest NI, working collaboratively with the Department for the Economy, has formed Innovate NI - an initiative that helps businesses of every shape and size to innovate successfully through education, mentoring and recognition.
Innovation processes
"Successful innovation is the result of a managed process, and Innovate NI can help local businesses through that process" says Jeremy.
"They have adopted an easy-to-follow four-step Innovation Framework which provides a guide for a business to follow; there are videos explaining each of the steps and clear action points and tasks for each stage of the innovation journey.
Jeremy continues "Too many businesses try to run before they can walk and end up failing to identify and commercialise good ideas. It is important to complete each step of the Framework in the right order, undertaking thorough ideation and selection tasks first - otherwise we can spend vital funds on developing and testing non-viable projects.
The beauty of Innovate NI is that it is available to everyone – sole traders, micro-businesses, SMEs and large corporate organisations. Businesses can access the Innovation Framework online, and if they submit an Innovation Assessment it will be assessed by our Innovation Advisors. Businesses will receive expert advice and mentoring to help them complete the next set of tasks, progressing along the framework to commercialisation and implementation.
To make sure existing and potential staff, investors and customers understand the commitment the company has made to innovation, Innovate NI will issue them with a recognition certificate to verify their advancement along the Framework. We want businesses to have an increased desire to become more and more innovative and to be able to see the progress they are making.
Those who have submitted assessments and been recognised by Innovate NI also benefit from expert mentoring and tutoring. In February this year, 30 businesses which were in the process of the ideation and selection stages (bronze level innovators) or the development and testing stage (silver level innovators) attended a one-day workshop where they received expert advice and training to advance their ideas.
Our aim is that by supporting businesses through a managed structured process, they will move only the most viable business ideas through to commericalisation effectively, efficiently and quickly.
Process innovation
Despite the common perception, innovation goes further than using technology to create new products and services, in fact, it has been proven repeatedly that innovating business processes can create significant value.
Innovate NI strongly supports this view, recognising process and organisational  innovation as tools businesses can use to remain current and competitive.
Innovate NI recently recognised Kukoon Rugs as a Platinum Level Innovator, based on their successful process innovation. The Newry based company used the Innovation Framework to help solve a logistical issue which was affecting their ability to win business in certain markets. They followed the Innovation Framework, completely innovating their approach to warehousing and shipping, and as a result gained a significant competitive advantage.
Signposting
Innovate NI can also signpost businesses to the most appropriate support for their needs from the entire innovation eco-system. For example, if they believe the business needs help to develop and test their idea, they may recommend applying for an innovation voucher. However, if the innovation is in its very early stages they may put you in contact with a local council or college which has the right support to help you analyse which of your ideas is the most viable.
The Innovate NI team promotes innovation, provides a framework, educates and mentors and works with the multiple organisations locally and nationally - it really is a one-stop-shop for innovation in Northern Ireland.
To find out more and to submit your own Innovation Assessment visit the Innovate NI website.