Northern Ireland is bringing global technology expertise to the Gulf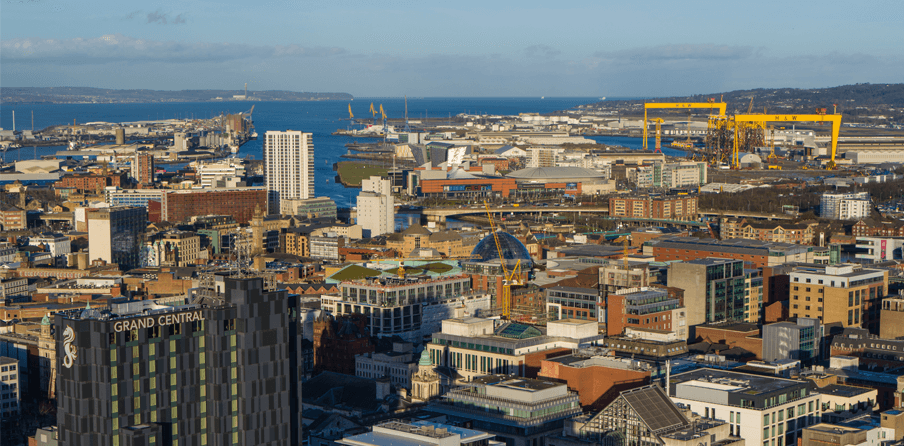 Technology has disrupted every aspect of our lives, changing how we work, how we learn and how we live. Nations that can embrace technology innovation, adopt and apply, will prove to be the winners of the future. Northern Ireland continues to follow this roadmap, having earned its place as a global leader in some of the world's most cutting-edge industries, especially in the technology space. 
Middle East - a burgeoning technological hub for Northern Irish companies
Just as Northern Ireland has strengthened its footing on the global technology stage, we are seeing frontier markets around the world step up and accelerate technology innovation. The Middle East which has become a burgeoning hub of technology innovation, having seen major successes in its technology excellence in recent years is a prime example of this.  
Throughout my time living in the GCC, I have seen significant efforts being made in diversifying national income, investments and economic growth; and notable investments have been made in emerging technologies to help accelerate this growth trajectory. The Middle East has committed major investments into enterprise technology and has established several Fintech hubs across the region that has led to advancements in digital banking and a need to focus on cohesive cyber security strategies and technology.  Additionally AI, Machine Learning and Data Analytics are becoming more prevalent across all aspects of business improvement and the last year has seen game changing innovations in the education sector as well. The region's openness to innovation culminated in the most recent "Hope" space mission to Mars led by the UAE, demonstrated the depth of technology expertise and talent in the GCC. 
Similarly, the agriculture industry, food production and food security has changed beyond recognition in the GCC. In 2020, The UAE government established the Agritech Sector Development Team – a specialist consortium of public and private sector stakeholders who specialise in agricultural development. The vision of this team is to identify key areas of growth in the Middle East's agritech industry, and ensure its successful delivery in local markets.
As for healthtech, the Middle East has been looking to the healthcare industry with increased interest in the last few years, with prominent regional players making large investments into global healthcare companies. For example, the UAE's Vision 2021 outlines healthcare as one of its six pillars, with the goal of making the UAE one of the best countries in the world for quality healthcare.
From quality healthcare comes a healthier population and there have been significant efforts made in encouraging and promoting fitness across the nations. Sport not only at an amateur level but now also at an international level is becoming increasingly important to the Middle East.  This is evident from the fact that we see more and more International sporting events coming to the region from Formula 1 Grand Prix taking a prime spot in the regions annual sporting calendar, to the World Cup 2022 happening in Qatar, and UFC, IPL T20 and the UCI World Tour concluding a successful stint in the UAE. Saudi Arabia is also fast becoming an exciting home for sports megaprojects. As part of this movement, top teams are increasingly turning to technology to give them the edge over their competitors, with data analytics, sports science and biometric technology all playing a central role in assessing and improving team performance. And leading tech companies like Northern Ireland's Stat Sports are at the helm of helping some of these teams achieve this goal.
Northern Ireland innovation - a strong catalyst in transforming Middle East industry
In the last few years, Northern Ireland companies have produced many global success stories from disruptive technology sectors and we have seen them making inroads across the GCC in Fintech, Cyber Security and Data Analytics. We're also starting to see interest from our agritech, healthtech, life sciences and edtech in the GCC as they become more aware of the opportunities.  
Northern Ireland's technology sector is continuing to grow with an estimated 1,200 companies, with a combined worth of approximately £1 billion.*
Northern Ireland has produced major success stories from domestic to emerging markets, fast becoming a catalyst for technology innovation. Invest Northern Ireland has played a significant role in supporting promising home-grown tech companies venture into the GCC and wider IMEA market – enabling established firms to scale, whilst allowing new innovators to come to market. 
As Northern Ireland continues to build on its stronghold in emerging technologies, so too will we see more players expanding their skills and expertise to international counterparts – with the Middle East being a major global partner to Northern Ireland tech. The result is that we can look forward to a very bright future ahead in both regions, and for the global technology industry more broadly.
*Northern Ireland also has a strong tech FDI proposition, to learn more about NI as a technology FDI location, please visit our technology sector page.
Here are some examples of Northern Ireland companies that are trailblazing their way in the GCC market:
Diaceutics works with pharmaceutical firms on diagnostic testing and data analytics to bring more personalised medicine to patients.
First Derivatives, a leading global predictive intelligence organisation works with a number of financial institutions not only in the Middle East and Africa region, but also in APAC.
Lowe Conex, a subsidiary of Lowe Rental, works with retailers and food manufacturers to improve efficiencies and energy consumption through close monitoring of the refrigeration, AC and HVAC systems across multiply locations from one central platform.
Institute for Global Food Security – Queens University Belfast (IGFS QUB) is one of four Global Research Institutes that conducts advanced research on challenges to food integrity - nutritional, environmental, food-safety and animal-welfare at various points of the food chain, from farm to fork among many other forms of research.  The institute publishes their finding on top journals, participate in seminars and panels on the sector, and partners with research facilities and governments across the globe including GCC to advise them on tackling the challenges of the future.
Randox, a world leader in the in-vitro diagnostics industry, have partnerships with labs and hospitals in the GCC to supply cutting edge diagnostic kits and thus providing access to more sophisticated medical technology in the region.
SaltDNA

is a multi-award-winning cybersecurity company that builds secure enterprise mobile communications solutions. SaltDNA offers 'peace of mind' for organisations who value their privacy, by giving them complete control and secure communications to protect their trusted relationships and stay safe.

Stable Innovations, a Sports Tech company specialising in wearable fitness tracker for the Equestrian Industry, were successful in securing a position within the Qatar Sports Tech accelerator programme initiated by Qatar Development Bank.
STATSports, the world's leading player tracking and analysis provider in elite sports, has designed a unique APEX system offering specific software for all athletes worldwide, which is widely used by major sporting authorities like the Ireland Rugby, Manchester City, Al Nassr, Al Ahli FC, India Cricket and many more.
Texthelp, one of the leading EdTech companies from Northern Ireland with more than 40 million users worldwide, has been supporting schools in the Gulf with its literacy, accessibility and maths software tools.
Yellow Design, which is part of NI's Creative Tech Ecosystem qualified for the Interlak Incubator programme in Dubai that specialises in Travel, Tourism and Aviation; allowing them to develop POC for their Smart City Tourism Platform utilising AR and VR Tech.