Northern Ireland – a key partner for Saudi Arabia's Vision 2030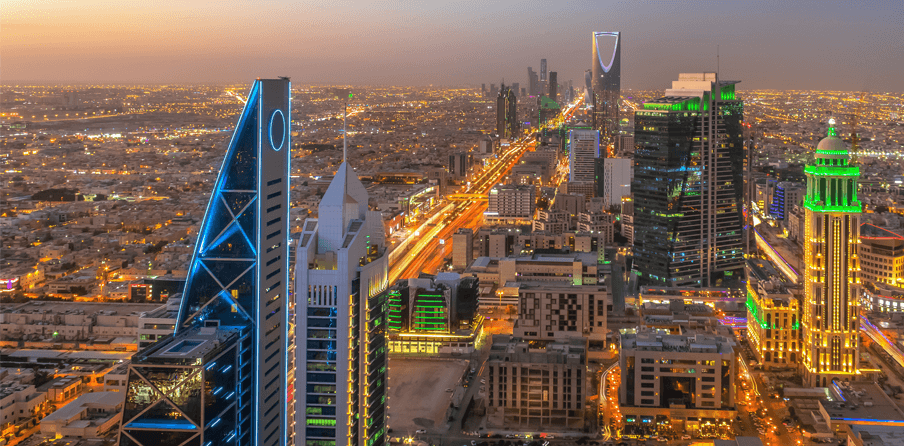 When we think of the Middle East, we are reminded of the vast golden sands and a booming economy powered by the vast reserves of oil and gas. As a matter of fact, you will find five of the world's largest oil fields here in the Middle East. Saudi Arabia takes the prime spot amongst them, with 17% of the world's petroleum reserves, and the oil and gas sector accounting for about 50% of its GDP; making it the richest Arab country and the largest economy in the Gulf region.  
The kingdom is also using its strategic location to build its role as an integral driver of international trade and to connect the three continents: Africa, Asia and Europe. With the changing global outlook on climate change, the growing calls for sustainability and to reduce its reliance on one sector, the Saudi Arabian Government has launched Vision 2030, a long-term strategy to diversify the economy and attract more foreign direct investment into the region within tourism, leisure, education, healthcare, sustainability, environment, technology and IT, and construction.
Saudi Arabia's Vision 2030
Vision 2030 outlines four development projects, known as Gigaprojects which will help the region achieve its economic diversification objectives. These projects are some of the most ambitious projects on earth using technology, sustainability and natural landscapes. The region's Public Investment Fund (PIF) has been authorised to fund 150 billion riyals ($40 billion) each year through 2025, and manage the delivery of these Giga Projects1.  
For many of the Kingdom's hyper-scale Gigaprojects and Megaprojects – the likes of Neom, The Line, The Red Sea Development Project, Qiddiya and Amaala – sustainability remains a common theme for infrastructure development. There is a growing demand in the Kingdom for sustainability, technology innovation, and more stringent cybersecurity protocols. 
Saudi Arabia remains the largest education market in the GCC, largely owing to its expansive population base. Saudi Arabia is developing a highly-skilled population through a knowledge-based labour market, which puts education at the centre of Vision 2030. The biggest share of the budget will be taken by the Education sector at 18.7% followed by Health and Social Development at 17.6%. 
To realise this mission, the Vision Realization Programs (VRPs) have been set in place and in full motion to help stimulate growth in 2021 and enhance the economy's resilience against any crisis. Earlier this year, Saudi Arabia invited foreign companies interested in doing business with government-owned organisations to establish their regional offices in Saudi Arabia by Jan 1st, 2024. This will help accelerate the Kingdom's 2030 vision, reduce unemployment and provide the vehicle for skills development of the local talent.
Northern Ireland can be a strong contributor to Saudi Arabia's economic development
There is an opportunity for Northern Ireland companies to tap into current market dynamics and leverage their own expertise. For the past decade, Northern Ireland firms have been achieving great success exporting goods and services to Saudi Arabia. 
Northern Ireland's expertise in waste management, recycling and sustainable development certainly offers a strategically important resource for the fulfillment of projects in Saudi Arabia. 
Saleem Haddad, Regional Manager - Saudi Arabia and Levant Region, Invest Northern Ireland
A number of Northern Ireland companies are already working with Saudi entities to achieve their own objectives for more efficient waste recycling and are collaborating with a number of large-scale industrial plants in the Western, Eastern and Central regions of Saudi Arabia. Kiverco, Edge Innovate and Powerscreen - leading global recycling solutions companies based in Northern Ireland, have played an influential role in supporting the development of a new waste recycling plant for Saudi Investment Recycling Company (SIRC); and Kiverco for the Red Sea Project in partnership with Averda. 
Northern Ireland companies have also been actively supporting Saudi Arabia's ever-growing technology innovation. CEM Systems, a Belfast-based leading provider of access control and integrated security management systems, has supplied access control technology for the holy mosque in Makkah in Western Saudi Arabia, as well as a number of major international airports in the region. Similarly, CrowdVision, a leading automated pedestrian analytics and insights company, is currently delivering real-time data to help manage crowds and ensure the safety of millions of Hajj pilgrims in Makkah. 
Devenish Nutrition, one our leading exporters to Saudi Arabia, supplies animal feed supplements to the Kingdom's poultry and dairy industry, ensuring best-in-class standards for regional produce. A host of other Northern Ireland companies such as Pritchitts, Greenfields and Randox are also joining forces with regional Saudi businesses to increase the scale and sophistication of food testing. 
Northern Ireland's two leading universities, Ulster University and Queen's University Belfast have been making steady progress in recruiting high-quality Saudi candidates for study at Bachelors, Masters, and Ph.D. level. 
Saudi Arabia – a land of opportunities
In conclusion, whilst the pandemic has squeezed national income streams and rocked oil prices, Saudi Arabia continues its efforts to diversify its national economy, and expects a broad-based recovery in 2021 with projected real GDP growth of 3.2%. We can safely assume that it's well on its way to achieving this goal, after a recorded first quarter growth of 3.3% from its non-oil sector1. 
Education, technology, cybersecurity and sustainability will continue to be the key in fuelling this recovery, and in maintaining Saudi's competitiveness as an attractive place to invest and do business. This not only plays to the strengths of Northern Ireland's growing crop of industry expertise, but also offers our nation a significant opportunity to play a key role in supporting the Kingdom's efforts to achieve its Vision 2030 ambitions, setting a foundation for future growth and innovation. 
If you want to know more about how Northern Ireland's expertise can help your organisation or project in the Kingdom of Saudi Arabia or Levant region, please connect with Saleem Haddad on LinkedIn or email IndiaMiddleEast&Africa@investni.com.