Ready, Set, GO GREEN in the global race for net-zero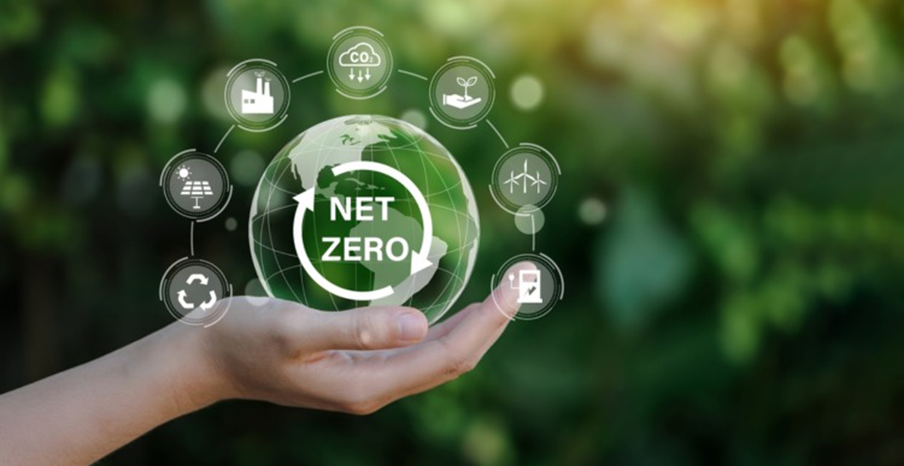 There are several definitions of a 'Green Economy' – the United Nations describes it as a "low carbon, resource efficient, and socially inclusive economy"; the European Environment Agency defines it as "one which generates increasing prosperity while maintaining the natural systems that sustain us".
Rachel Sankannawar from Invest Northern Ireland discusses the once-in-generation opportunity presented by the Green Economy.
Regardless of its official definition, the green economy places sustainability at the core of economic development and is a global megatrend that offers a wealth of business opportunities.
In simple terms, a green economy delivers products or services that drive decarbonisation, resource circularity, and energy efficiency. Its impacts can be felt across the entire supply chain, it influences trends in end customer usage and ultimately contributes to the achievement of green targets around the world.
On a global scale, the green economy presents clear commercial opportunities; Oxford Economics projects new green activities could create $10.3 trillion in Global GDP by 2050 and the International Labour Organisation (ILO) has indicated that a shift to a greener economy could create 24 million new jobs globally by 2030.
Rachel leads Invest NI's Green Economy Development Team, which is made up of experts with experience in trade, cluster development and collaboration, renewables, cleantech and business development. She says, "We recognise the potential offered by the green economy and are committed to empowering local businesses to capitalise on cross-sectoral business opportunities, driving growth in new and emerging markets, and generating green jobs.
With our excellent advanced manufacturing and engineering capabilities, world-leading academia and strong innovation, research and development ethos, Northern Ireland is well positioned to take advantage of emerging green opportunities, one of which is low carbon retrofit.
Rachel continues, "This part of the green economy has proved very fruitful for some of our local businesses, with companies such as Renewable Energy Devices and Alternative Heat winning substantial contracts for their net-zero enabling heating solutions both at home and in international markets." 
Low carbon retrofitting is an emerging market that involves applying innovative solutions to help businesses introduce clean energy sources to power heat, energy, and transport. And, despite boasting some success, the Green Economy Development Team are confident that Northern Ireland has many more local businesses with the potential to enter the ring; this is one of the reasons Invest NI has decided to sponsor the Housing and Buildings category at the upcoming All-Ireland Sustainability Awards.
However, Rachel says that achieving sales is not the only opportunity presented by the low-carbon retrofitting market, instead, the economic benefits of this niche are three-pronged.
"Yes, local companies, with the technology, skills, and ambition to provide low-carbon retrofitting services, will win business, but local businesses can also benefit from low-carbon retrofitting of their buildings and operations. We offer support to help businesses implement resource efficiency capital projects and we fund the production Technical Consultancy and Sustainability Reports which help identify where technologies could be used to generate savings. These supports can provide the impetus for local businesses to make the change to clean, green power.
Additionally, when competing for foreign direct investment, our ability to cite multiple companies that have the skills and capacity to develop and implement low-carbon power solutions in new buildings, or by retrofitting existing real estate, provides Northern Ireland with a distinct competitive advantage.
Ensuring the benefits of the green economy are felt by all is paramount for Invest NI. Rachel says, "Inclusivity is extremely high on our agenda; therefore, a big part of our work is about making sure that the green economy is not perceived as something that only tech or science sectors can benefit from, the trickle-down benefits are for all sectors. So, our aim is that through our work with the All-Ireland Sustainability Awards, and our sponsorship of the Housing and Buildings category, we will raise awareness of the opportunities for businesses from all sectors, including construction, manufacturing, and their supply chains." 
The Green Economy Development Team are keen to work with local businesses to ensure prosperity for all in Northern Ireland.
Visit Green Business or contact us by calling 0800 181 4422.