Singapore: A country where cybersecurity is a top priority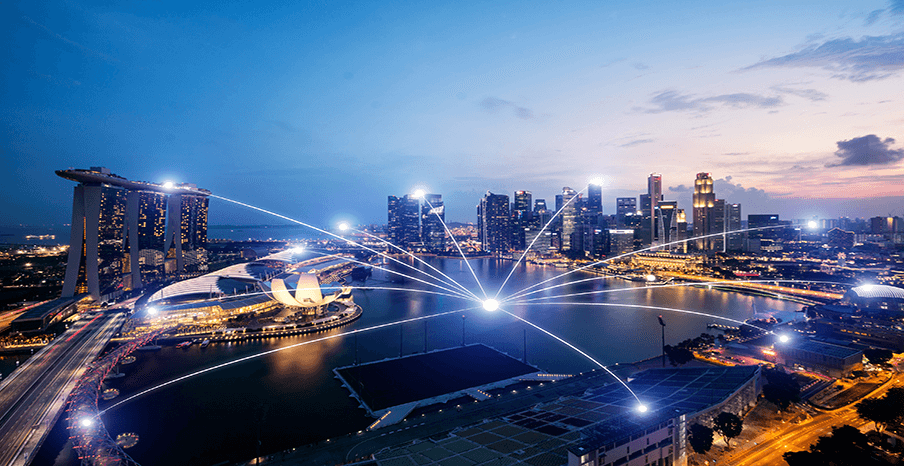 This feature is the second in our 'Spotlight on Singapore' series of collaborative articles providing insights into the dynamics of region and potential  opportunities for Northern Ireland businesses in Singapore; a gateway to Asia.  This article explores Singapore's progressive response to cybersecurity threats and the opportunities it presents for Northern Ireland's digital and cybersecurity sectors.
Why is cybersecurity so important in Singapore?
Ranked fourth, behind the United States, India and the United Kingdom, Singapore is one of the most cyber-attacked locations in the world due to its high internet adoption rate. However, it is also the most prepared to deal with these attacks.
Consumer comparison company, Comparitech cites Singapore as the number one nation 'best prepared for cyber attacks'. So why is Singapore such a frequent target?  Simply put; there is a lot to protect.
Multinational Corporations (MNC's) who demand transparency, strong corporate governance, and secure connectivity within a safe and stable environment have made Singapore their Asia Pacific (APAC) headquarters as part of their expansion strategy into Southeast Asia and APAC.
Our first article reflected on Singapore's busy air and seaports that manage the daily flow of a vast amounts of goods, raw materials and people. Moreover, Singapore is also a global data hub. Whether its data or goods, this vital international hub is a barometer for both the regional and world economy.
What does Singapore need to protect from cybersecurity threats?
Data
Singapore is connected to 17 active submarine cable systems, facilitating the flow of data from east to west and vice versa. However, data doesn't just flow through, it's also stored there. Singapore ranks as the fourth largest market in APAC for internet data centres, behind Japan, China and India.
In time, this will only increase due to the proposed new 150 megawatt solar-powered Facebook data centre expected to be ready in 2022. Should you wish to learn more about Singapore and its investment in data centres and the country's global reach in this sector perhaps you could read this article - 'new epicentre of the data centre world'.
Financial institutions
The majority of cyber-attacks are financially motivated. In 2017 alone Singapore attracted around S$853.81 billion in foreign direct investment in the financial and insurance services. By 2019 there were 757 capital markets services licensees' and 187 insurance companies in Singapore. As the country continues to grow as a global financial centre its inevitable attacks will also increase.
Government
Nations are experiencing ever increasing and sophisticated attacks on their government systems and digital infrastructure. The average cost of a cybersecurity attack for organisations in Singapore stands at approximately S$1.7 million per breach. To combat this 92% of organisations surveyed intend to increase spending on cybersecurity, therefore creating sales opportunities for Northern Ireland cyber companies in Singapore.
Singapore's response
Singapore's approach to combatting cybersecurity threats utilises a host of government agencies such as the National Research Foundation (NRF), the Cyber Security Agency of Singapore (CSA), Ministry of Defence (MINDEF), Infocomm Media Development Authority (IMDA) and Economic Development Board (EDB). These bodies actively promote collaboration creating interesting areas of opportunity for NI technology companies offering cybersecurity solutions and services in fields such as data analytics.
Singapore's Ministry of Defence see cybersecurity management as a top priority. The public and private sector of rapidly digitalizing local companies and MNCs have quickly followed suit. This has resulted in a consistently strong demand for bespoke and tailored cybersecurity solutions to combat constantly evolving and sophisticated cybersecurity threats.
The Singapore Government is forward thinking on cybersecurity challenges and continues to make significant investment both as a procurer of solutions, in regulation and in thought leadership in Singapore and in ASEAN.
The Singapore Government is forward thinking on cybersecurity challenges and continues to make significant investment both as a procurer of solutions, in regulation and in thought leadership in Singapore and in ASEAN.
In 2016, it invested $10m in the ASEAN Cyber Capacity programme to enhance the region's cyber security capacity and capabilities, and currently hosts the Interpol Global Complex for Innovation, a key node in Asia to support international cyber crime-fighting operations and build regional capacity to counter cyber crime.
Temasek Holdings (a Singaporean Government Investment holding company) is a stakeholder in both telecommunications giant Singtel and the cybersecurity firm Ensign Infosecurity and is also an investor and partner to many cybersecurity companies globally. Whether it is through acquisition of companies abroad or overseas expansion, the demand to develop cybersecurity solutions remains a core focus for Singapore, and collaboration with foreign owned cyber-security companies is actively encouraged.
Demand for cybersecurity solutions
The cybersecurity market in Singapore was worth approximately US$500 million in 2017 and is expected to reach US$900 million by 2022, with a 15% Compound Annual Growth Rate (CAGR).
The Asian Development Bank sees cybersecurity as a key sector of opportunity in Asia. Singapore has established itself as a gateway to Asia and is therefore an ideal location for both small and large private enterprises to leverage.
What solutions can Northern Ireland cybersecurity companies provide to Singapore?
Both the Singapore Government and private sector present attractive market opportunities for a wide range of cybersecurity solutions providers. With its internationally recognised credentials in cybersecurity, firms in Northern Ireland are well placed to compete in a variety of areas.
Risk and Compliance
Singapore's financial institutions and corporations need to ensure employees are effectively trained and adhering to cybersecurity protocols, creating opportunities for NI companies with solutions in cyber security eLearning, application governance, policy management, simulated threats and secure communication.
Fraud & Transaction Security
NI companies offering analytics and AI based solutions that predict, prevent and detect fraud in areas such as financial markets trading, payments and insurance will find an engaged audience in Singapore's financial sector.
Smart City Security
Singapore has long had a smart nation and digitisation agenda and is recognised as the World's smartest city. This agenda coupled with the prevalence and advanced development of IOT, smart devices and autonomous transport, make Singapore a natural market for Northern Ireland cybersecurity and related data analytics and AI companies.
The protection of smart city environments is critical in Singapore, creating opportunities for companies in IoT security, identity and access management (including biometrics) and messaging.
Singapore's financial, corporate and Govtech industries also offer market opportunities for NI technology companies in a range of other areas including: 
Application Security
Identity & Access Management
Data Security
Cloud Security
Threat & Vulnerability Management
Security Operations
Incident Response
Managed Service Security Provider
Invest Northern Ireland's in-market trade experts can help you explore opportunities in the region. To find out more about how we're here to help your business succeed in Singapore, contact singapore@investni.com
The next article as part of our 'Spotlight on Singapore' series will focus on Singapore as a global financial and FinTech hub of innovation.