Understanding the impact of COVID-19 on our sectors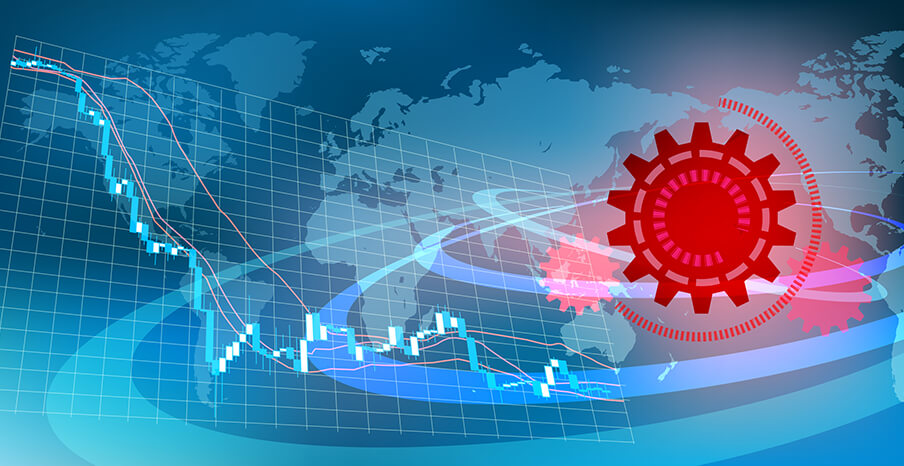 The sudden contraction of export markets, loss of supply chain and government decisions to lockdown whole countries and close all but essential businesses has sent shockwaves through economies right around the globe as COVID-19 has moved from continent to continent.
Locally we saw an upwards of 200,000 people furloughed and sadly some made redundant. Companies involved in Aerospace & Defence, Construction, Materials Handling, and Travel and Tourism have been impacted the most.
But there are signs of hope on the horizon. As economies and markets slowly start to reopen, and lockdown restrictions lift, businesses are starting to get back to business and some of our customers are indicating an intention to return furloughed employees back to work.
Factors impacting recovery
Market decline, social distancing in the workplace and cash flow are well documented challenges facing many businesses, but we are also aware that there are very unique issues for some sectors. Understanding what these challenges and issues are is essential to any recovery plan.
To get to the detail of these specific issues we have undertaken over 1,800 hours of in-depth interviews with our customers. The key sectors covered included:
Sectors
Aerospace & Defence

Agri-food

Construction

Materials Handling

General Manufacturing

Life & Health Sciences

Financial & Business Services

ICT
Manufacturing a challenge
Northern Ireland's Aerospace & Defence sector has a proud history and a growing global reputation. The 80 per cent reduction in global air traffic with nearly 66 per cent of the worldwide fleet grounded has had a significant impact on manufacturing order books, and on the local supply chain. The companies we spoke to in this sector are keen to see multi-lateral government strategies to get people and planes flying again as soon as possible.
A focus on enhancing competitiveness and winning new business in new markets and sectors are two areas that companies feel will be important to recovery, and where they would like to see most support.
The Agri-food sector is one of the largest employers in Northern Ireland. The closure of restaurants and hotels had a major impact on businesses for which the foodservice market is a critical element of the sales pipeline.  This includes companies operating, across bakery, meat, fresh produce and dairy.
The re-opening of fast food outlets and plans for hotels to reopen from late July will bring welcome business to many food producers and manufacturers.
However, the cost and logistics of implementing social distancing is a hurdle that some still need to overcome, particularly for food processors. Businesses will need to consider how the use of technology and automation of workflows could help compensate for potentially reduced outputs due to reduced staffing.
The sector will benefit greatly from assistance & support for the introduction of increased and improved automation in order to reduce costs.
Invest NI customer
Construction saw a virtual freeze in activity as supply chain issues, travel restrictions, and social distancing all impacted most businesses operating in this sector. In response, there has and will continue to be, more of an emphasis on offsite construction through modular builds. 
Travel restrictions mean that sales meetings cannot take place which is important for high value, £1m+, contracts. Travel restrictions also stops the installation and commissioning of machinery and plant...
SME customer
This is an area in which a number of local Northern Ireland companies have been early innovators.
As construction firms look to the future, they raised supply chain bottlenecks and increased costs of health and safety and socially distancing as challenges.
GB, Europe and the US are core markets for many businesses in Materials Handling.
Since COVID-19 companies have faced unpredictable sales volumes, breaks in the supply chain and physical distribution challenges.
However, as markets begin to reopen, it is travel restrictions and social distancing that these companies are focused on.
Our customers spoke of an increased in need for R&D and skills training as they look to automate processes and use virtual reality for sales and maintenance of machinery.
Furloughed most of workforce for 3 weeks. Now only small number on Furlough. [We have] made good use of technology to communicate and run the business remotely in the interim.
Invest NI customer
Similar challenges also face those companies involved in general manufacturing. With travel restrictions and increased costs and timescales for shipping, firms are turning to the use of virtual meetings and online selling to communicate with customers.
The whole health sector will change. A move to online/telephone triage from doctors, using ICT to allow more home working by health professionals, indicate that it is unlikely that things will return to 'normal'.
Invest NI customer
While some companies in Life & Health Sciences have seen a marked increase in product demand, social distancing has made manufacturing at capacity more challenging. Ongoing supply chain shortages is also a concern.
Some companies in the sector believe that the healthcare market will change significantly with extra capacity built into systems and new practices in place that will drive demand for new products.
Remote working and digital solutions
While manufacturing businesses experienced particular challenges and saw enforced shutdowns due to social distancing, other businesses in the services sectors have been able to switch to remote working with relative ease and in the main, continue to operate business as usual.
In Financial & Business Services some of our international firms have reported that the ability of the Northern Ireland offices to move seamlessly to remote working, and the resilience of both the local staff and infrastructure, have enhanced NI's reputation within the global groups.
In ICT some companies have experienced a decline in sales and uncertainty due to reduced expenditure on new product development, whilst others are seeing an increase in opportunities where they are provided services based around e-commerce, remote working, and online solutions etc.
Ongoing travel restrictions are a concern for long term business development, with areas such as Digital & Creative relying on attendance at conferences/exhibitions as a previous source of new business.  
Our Response
Our customers have raised a variety of challenges and differing views on the best way to support recovery.
This evidence we have gathered will provide the background for a staged economic recovery plan.
Through our various support solutions we will assist in this recovery by helping businesses to:
improve operational effectiveness

adopt and exploit digital technologies

ease business cashflow and improve liquidity

enhance skills across the labour workforce

maximise R&D and innovation to exploit new market opportunities and improve competitiveness

Support companies to grow in overseas markets with the support of our in-market staff
Northern Ireland is small and nimble enough to move faster to competitive recovery than other places. With this insight, real partnership and collaboration we can build a phased recovery and support our whole economy to return, reset and rebound.