Belfast lighting firm completes new export deal
18 August, 2011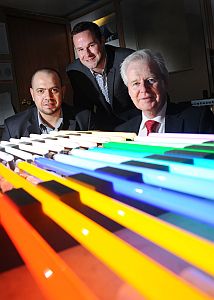 A range of highly specialised lighting products manufactured by Belfast based AM Light has been delivered to Kuwait after the company secured a major export contract with support from Invest Northern Ireland.
Over 3000 metres of AM Light's cold cathode lighting product will be used throughout the interior and exterior of the Al Wafra Tower, one of the largest construction projects currently underway in Kuwait. The mixed use building is located in an affluent district of the city and will house a large shopping mall, apartments and offices.
The customer, Mohanad Abu-Bakra, CEO of M D & Tech Lighting Co, visited Northern Ireland last week to oversee despatch of the order. It is the second contract the firm has secured in Kuwait.
The company's success follows its participation on an Invest NI trade mission to the Arabian Gulf region in 2009, where it used the opportunity to explore the Gulf markets and build relationships with a number of potential clients. AM Light has also benefited from a range of Invest NI support including export marketing advice and assistance with product and process development.
Welcoming the news, Kevin McCann, Invest NI's Director of Transport, Construction and Tourism said: "AM Light has invested time and resources to ensure it can compete effectively for new business. In recent years the company has worked towards growing its export sales and this latest deal in Kuwait is another significant achievement for the manufacturing firm."
Chris McNevison, AM Light Sales and Marketing Manager, said: "After submitting proposals for the project and conducting on-site presentations in Kuwait, we were delighted to win this order, particularly as we faced strong competition from Germany, the US and Turkey. Our cold cathode lighting system was recognised as providing high energy efficiency and low life cycle costs in comparison to other technologies.
"We have invested heavily in recent years to further develop our marketing material and production processes in order to compete for further projects in the buoyant Middle Eastern markets. It is the biggest export contract that we have secured to date and the support and advice we have received from Invest NI has made an important contribution towards our ongoing success. This contract will help us to showcase our expertise and the quality of our products in a key market and leverage new business in the region.
"It has been an exciting year for the company. We are delighted to have also been involved in many high profile projects in Northern Ireland and are committed to growing our export business."