Bunk Campers drives forward expansion
28 June, 2012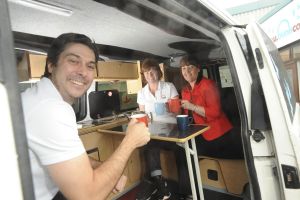 Bunk Campers is planning to significantly expand its operations in 2012 with support from Invest Northern Ireland.
The award-winning company is the only multi-territory campervan and motor home rental firm in the UK and Ireland, with a fleet of 40 campervans and depots near Belfast and Dublin International Airport.
Bunk Campers is investing over £500,000 to open a new satellite rental location in Scotland, increase its fleet size and employ four new staff.
Invest NI has offered over £40,000 of support partly under its Jobs Fund initiative which is part of the Boosting Business campaign.
Oonagh Hinds, Manager of Invest NI's Eastern Regional Office, said: "Bunk Campers has grown significantly since it was set up five years ago and this investment marks the next stage of its development.
"With Invest NI's support it is expanding its workforce and operations and is also exploring franchise opportunities in the UK and Europe, which could significantly increase its turnover.
"With the anticipated increase in visitors to Ireland over the next few years it is a timely investment which should pay dividends."
Bunk Campers has continued to invest in infrastructure, IT and customer services since it was established in 2007 and intends to increase the campervan fleet this year and also invest in multilingual customer resources.
Keith Charlton, Managing Director and co-founder who runs the business with co-director Louise Corken, said: "We now offer Europe's widest choice of five vehicle types from our large, modern fleet. We rent campervans to a broad range of international tourists through our online trading facility and through our relationships with tour operators. Our product is now offered in over 35 markets worldwide through travel agents.
"To grow the business further we need to target new markets and with Invest NI's support we are recruiting staff to help us develop our online marketing strategy and our franchise model.
"We will also be undertaking market development visits to explore opportunities to expand our operational model into new international markets," he added.
Bunk Campers currently employs four full-time and three part-time staff.
Invest NI's Jobs Fund was set up to stimulate job creation in response to the challenges of the global economic downturn. The fund has a ring-fenced budget of £19 million and aims to create 4,000 jobs by 2014.