E-Commerce investment helps Peninsula Print and Design in business boost
27 February, 2013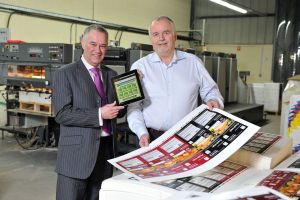 Peninsula Print and Design, the commercial printing business in Newtownards, Co Down, has agreed a deal with Supplies Team Solutions, which could be worth over £500,000 over the next few years, for the production of leaflets, posters, stationery and other printed products.
The printing business, which has been assisted by Invest Northern Ireland and currently employs 45 people, has developed bespoke software for an e-commerce portal that enables the UK regional operations of Supplies Team Solutions to arrange print requirements online.
The contract is with the Belfast office of Supplies Team Solutions and was announced by Neil Frazer, Peninsula Print's Business Development Manager, and welcomed by Invest NI Director of Food and Tourism Maynard Mawhinney during a visit to the company's premises at North Road Business Park in the town.
Mr Frazer said: "Winning the business from Supplies Team Solutions, a very significant new client, is a marvellous boost for us and our investment in e-commerce technology. The success positions us for further growth with Supplies Team Solutions and other customers seeking the speed, versatility, flexibility and overall competitiveness that e-commerce technology offers.
"We received guidance and other assistance from Invest NI to work with software developers at 31 Interactive in Belfast in creating bespoke software that enables customers such as Supplies Team to order stationery to their specific requirements including, for instance, corporate identity logos and type styles.
"The new web portal is part of a strategic focus on expanding our business outside Northern Ireland. It means we can service existing and potential clients throughout Great Britain and the Republic faster than ever before. The investment strengthens our overall competitiveness in very challenging markets," he added.
Mr Mawhinney said: "The new business won by Peninsula Print and Design is an exceptionally important return on investment in state-of-the-art e-commerce technology. It builds on the company's focus on quality products and excellent customer service, enhancing its overall ability to compete for greater business particularly outside Northern Ireland.
"This is an ambitious company with a strong commitment to grow profitable sales both in Northern Ireland and in external markets through continuous investment in plant and equipment, technology and customer services."
As a division of the multi channel distributor Vasanta Group, Supplies Team Solutions is one of the largest providers of business supplies and solutions in the UK.
Karen Hamilton, Supplies Team Solutions Business Development Manager, said: "Supplies Team Solutions is Northern Ireland's largest re-seller of HP printer cartridges, a major supplier of office stationery and is now looking to grow its share of print business courtesy of this relationship."