Food glorious food
19 October, 2011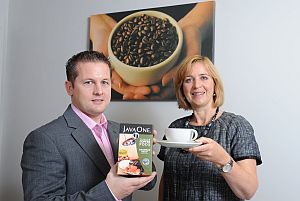 Already a £3 billion a year industry, food and drink is clearly in a healthy state and is being driven increasingly by companies investing in innovative products, processes and marketing techniques.
Food and drink is also an industry located predominantly in rural communities and is contributing substantially to the economic regeneration of these areas, creating employment opportunities across a range of skills including sales and marketing, engineering and product development.
Forty-one local food and drink companies, mostly smaller enterprises, recently racked up a record 160 gold stars in the UK industry's most prestigious competition, the Great Taste Awards, organised annually by the influential Guild of Fine Food. Five of the companies achieved top ranking for superb food and one, McCartney's of Moira, was named Supreme Champion, the first time this coveted title has been awarded to a Northern Ireland business.
The outstanding achievements of local companies in the awards also demonstrates that they can compete and win at an international level. Several award winners are already selling abroad. They include Dale Farm, Belfast; Fivemiletown Creamery, Tyrone; Kestrel Foods, Craigavon; Punjana, Belfast; Suki Tea, Belfast, White's, Tandragree, and Whitewater Brewing Company, Kilkeel.
Underpinning the remarkable achievements of local companies in the awards is a commitment to the type of market-led innovation, especially in terms of new product development, which Invest Northern Ireland has sought to stimulate and support through a range of programmes.
Two key programmes, Innovation Vouchers and Grant for R&D, have been deployed to assist companies, both large and small, to come up with new ideas that will lead to greater business outside Northern Ireland. More than 200 projects have been supported by Invest NI from food and drink companies through these programmes.
The Innovation Voucher programme, for instance, provides funding of £4,000 for an agreed project involving a link up between a company and a third level institution such Queen's University, Belfast and the University of Ulster.
Most of the food and drink projects, however, have encouraged tie-ups with experts at the Loughry Campus of the College of Agriculture, Food and Rural Enterprise (CAFRE), which has an extremely well-equipped Food Incubation Centre. An Innovation Voucher enables a company to develop and test the business potential of an idea for a new product or process.
The Grant for R&D Programme offers greater funding to bring a new product to market. Invest NI works closely with the universities, further education colleges and CAFRE to assist food and drink companies here to improve their competitiveness in markets outside Northern Ireland including Great Britain and the Republic of Ireland.
Other forms of support from Invest NI can then assist companies to realise the potential of a product or service particularly in the global marketplace.
This is further complemented by Invest NI's comprehensive portfolio of trade development activities including trade missions, exhibition and trade development activities. Trade missions offer ambitious companies, including those in the food and drink sector, significant opportunities to explore new markets.
Significant support is available for companies on the ground in key markets such as Europe, North America, the Middle East, India and Asia especially China. They provide up-to-date market data, lead generation and support, including guidance on business procedures, foreign language services and advice on shipping issues. Invest NI also organises Northern Ireland presentations at international food exhibitions such as SIAL, Paris; Anuga, Cologne, IFE, London, SHOP, Dublin and the UK Speciality Food shows.
In addition, Invest NI has a team of market advisers in Great Britain and the Republic of Ireland which brokers meetings between companies and potential customers.
This all adds up to a comprehensive portfolio of support from Invest NI for enterprising food and drink companies keen to innovate for success in international markets.
This article featured in the October 2011 edition of Ulster Business