Foster and Hamilton visit Brookvent
03 October, 2013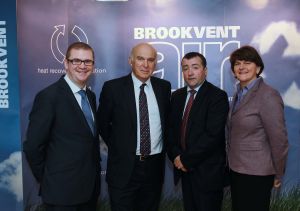 During a visit to local company Brookvent, Finance Minister Simon Hamilton MLA and Enterprise Minister Arlene Foster MLA met with the Business Secretary of State the Rt Hon Dr Vince Cable to discuss access to finance challenges within Northern Ireland.
Based in Dunmurry, Brookvent was the first beneficiary of the Growth Loan Fund receiving £425,000 in September 2012. This enabled them to invest in new staff, support small scale R&D projects and to pursue the larger contracts which require more working capital funding. The Company has also targeted growth in export markets and has increased sales in a number of new markets, including Poland and China.
Whiterock Capital Partners is the appointed fund manager for the £50million Growth Loan Fund. The Fund was established with investment of £25million from both Invest Northern Ireland and Northern Ireland Local Government Officers' Superannuation.
Before touring the company premises, the Ministers discussed a range of issues with the Business Secretary of State, including what banks and others are doing to encourage Small and Medium-sized Enterprises (SMEs) to invest and grow; the availability of other forms of finance, including the level of awareness amongst the business population; and the participation in Her Majesty's Government (HMG) and Northern Ireland schemes for SMEs.
Brookvent manufactures innovative ventilation systems, designed for the needs of the private residential and social housing.
The visit was arranged by the Department of Business, Innovation and Skills as part of the Secretary of State's visit to Northern Ireland.