Foster announces 45 new jobs at local IT firm
05 December, 2012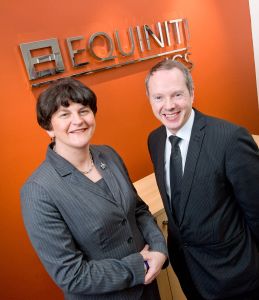 Enterprise Minister Arlene Foster today announced that Belfast-based IT software and services company Equiniti ICS is creating 45 jobs with the support of Invest Northern Ireland's Jobs Fund.
The new jobs are part of an overall expansion plan that will see the company's HR and payroll division target the public sector, including health and the financial services sector.
Announcing the new jobs during a visit to the company Arlene Foster said: "Equiniti ICS is one of our most successful IT software and services companies and its ongoing success is reflected in this expansion plan, which is creating 45 new jobs.
"The jobs are being supported by Invest Northern Ireland's Jobs Fund which was set up to help companies create jobs quickly. The target is to create 4,000 jobs through the Jobs Fund by 2014. Invest NI is also helping the company target new vertical markets, which is essential for continued growth.
"The ICT sector is an important driver for the economy and it is encouraging to see companies investing in growth even in these difficult times."
Equiniti ICS specialises in IT and payroll services and currently employs 270 staff in Belfast and 100 in India. The company has enjoyed steady growth for the last 10 years and is now aiming for a 30 per cent increase in revenues over the next two years.
David Mawhinney, Managing Director of Equiniti ICS, said: "Our strategy for growth includes targeting larger payroll outsourcing deals in the private sector, and becoming the largest private sector supplier of payroll services to the NHS. We are also developing software for case and document management based on Microsoft technologies for financial services organisations and the public sector.
"To support this we needed more staff in our payroll division and the support from Invest NI has allowed us to put those staff in place quickly and to carry out extensive marketing activity to help us break into new markets."