Foster announces major investment by Marlborough Engineering
04 December, 2012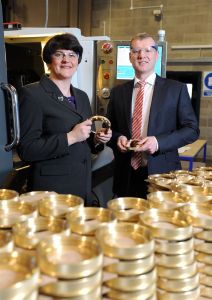 Enterprise Minister Arlene Foster has announced that local company Marlborough Engineering Ltd is investing over £3.6million in an expansion which will create 33 new jobs.
Based in Belfast's Titanic Quarter, the company supplies high specification precision machined components and large scale fabrications to customers in a range of industrial sectors including aerospace, high end vision, power generation and construction.
Invest NI has offered over £406,000 of support for the expansion, which will also enable the company to enhance its technical capability through the acquisition of new equipment, develop the skills of employees and target new export markets. Invest NI's support is part funded by the European Regional Development Fund.
Welcoming the investment, Arlene Foster said: "Marlborough Engineering is an ambitious, forward-thinking locally owned business with plans to substantially grow over the next few years through a strategic focus on the aerospace and power industries.
"The company is a good example of how local firms can progress by focusing on high-end products and services. Marlborough is combining technology, design capability and a highly skilled workforce to differentiate itself from other precision machining and fabrication companies.
"Having provided services to Bombardier, the company has recognised a clear market opportunity in the growing international aerospace sector and is embarking on a programme of proactive marketing to secure more contracts. Marlborough has already secured new export business and is on track to exceed its sales targets for this financial year.
"The majority of the new jobs created by this investment will pay above the Northern Ireland private sector median, and are the kind of high quality employment opportunities that Invest Northern Ireland seeks to support."
The company currently employs 67. In recent years it has invested significant resources in developing relationships with aerospace suppliers in the US and Middle East and this is beginning to pay off in terms of opportunities and sales.
In the last six months, Marlborough Engineering has secured over £1.6million in export sales from companies based in Washington State, USA including a £400k order from Pacifica Engineering. The success with Pacifica follows an initial introduction made at an aerospace business event organised by Invest NI in July 2012.
Mark O'Kane, Managing Director of Marlborough Engineering, said: "The company is progressing through an aggressive five-year expansion plan and is on track to more than double its turnover and quadruple export sales. By delivering exceptional levels of quality and service to our customers we have built up our reputation, both locally and internationally.
"We have received a range of support from Invest NI in recent years which has helped us to strengthen our management structure, develop our skills and design capability and explore export markets. This latest support will help us to take advantage of new opportunities that we have identified and achieve the ambitious targets we have set ourselves."