Foster announces major investment by Wrightbus
11 April, 2013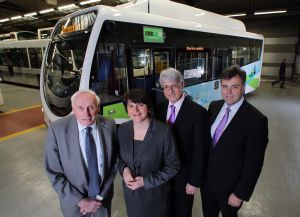 Enterprise Minister Arlene Foster today announced that Ballymena company Wrightbus Ltd is investing almost £15million in research and development (R&D) and staff training.
The family owned company is one of the UK's leading bus builders employing around 1,400 staff.
Invest NI has offered £3.9million of support, part funded by the European Regional Development Fund.
The investment relates to two R&D projects and one training project. The first R&D project involves development of a range of low carbon and lightweight vehicles, and the second relates to developing an electric zero emissions vehicle. The training project will focus on management and leadership development as well as the implementation of a new operator training programme and lean manufacturing programme.
Announcing the investment Arlene Foster said: "Wrightbus is an example of a very successful indigenous Northern Ireland business which is focused on exports and growth through innovation.
"This significant investment is just the latest in the company's history and demonstrates its ongoing commitment to new product development and best practice in manufacturing and business processes.
"Innovation is a key driver of economic success and Wrightbus is an example of what can be achieved through continually focusing on staying ahead of the competition."
The projects will enable Wrightbus to improve the fuel economy of their vehicles, which is important in the light of EU Euro 6 compliance standards as well as a key factor in customer purchasing decisions.
Mark Nodder, Group Managing Director of the Wright Group, said: "We aim, through this investment, to establish Wrightbus as a leading global provider of mass passenger transport with green credentials. Through the training project we will further develop Wrightbus into an innovative, world-class manufacturing facility."